Do you remember?
The Saturday Night Sensation of Earth, Wind & Fire's 'September'
"It was one of those mornings," begins Al McKay, remembering the creation of a song that, four decades on, ignites a disco inferno every weekend—especially in the UK, and notably at a very specific time. "I came downstairs feeling really good," the musician continues. "Went to my studio, set up a groove, and it just came piece by piece by piece. I brought it to Maurice, and he liked it right away. Then he said, 'Play it again.' And I kept playing it for him. The last time, he looked at me and he sang, 'Do you remember …'"
The time was late spring/early summer 1978. McKay was a songwriter, guitarist, and member of Earth, Wind & Fire. "Maurice" was Maurice White, the American band's leader. And the freshly composed tune was "September"—or, in the words of another of the cowriters, Allee Willis, "the song that wouldn't die."
Forty years since the single's original release on November 18, 1978, "September" is, in 2018, a Saturday night sensation in the UK. Every weekend, streams of the soul-dance anthem enjoy, on average, a 17 percent uptick—and that's from the already-increased Friday night streaming figures.
The irrepressible Ms. Willis isn't wrong in her assessment. Spotify plays for "September" currently stand at over 384 million—a good way ahead of Earth, Wind & Fire's second-most-popular song on the platform, "Boogie Wonderland." Despite being a bigger hit at the time, it "only" has 98 million plays. In the UK in 2017, "September" was the most popular single from the '70s, with 17.5 million streams. The blockbuster cartoon musical "Trolls" more than likely had something to do with that. Released at the end of 2016, the film was a smash hit, and so was its soundtrack. At one end was the lead single, Justin Timberlake's global wonder "Can't Stop The Feeling," which was nominated for an Oscar in 2017. At the other, playing out over the closing credits, was "September," as performed by Timberlake, voice star Anna Kendrick, and Earth, Wind & Fire.
Willis was a struggling 29-year-old songwriter in Los Angeles when she received the call to come work with Earth, Wind & Fire, initially on a new track for the band's first Best Of, which was "September's" initial purpose. She has firsthand experience of that weekend phenomenon, and offers a simple explanation.
"It is a song that is impossible to be unhappy to," she tells us. "For years, certainly since social media proliferated, every single week, on Sunday or Monday, I get a trillion videos of people [singing along] at weddings, bar mitzvahs, barbeques, graduation parties …
"It's just a feel-good song, a timeless groove—the record doesn't sound dated at all. And this year is the first time I've become aware that there are '21st night of September' parties all over the world," she notes, referring to the date mentioned in the lyric. "A thousand that I know of, but I'm sure there's more."
And even more specifically: Spotify's data shows that in the UK on a Saturday night, the song is most streamed between the hours of 5 p.m. and 8 p.m., peaking at 6 p.m. Those timings mesh with the idea of people, young and old, letting their hair down at family gatherings. And if you're going out on a Saturday night, what better way to get the party started than a blast of September as you polish up your dancing shoes?
They also mesh with another aspect of the ongoing vitality of a four-decades old American disco tune: September has found a new lease of life at football (that is, soccer) grounds up and down the UK. Fans of various English and Scottish teams have incorporated the White/Willis/McKay co-write into their arsenal of terrace anthems, of which there is a deep, long and occasionally baffling tradition: the riff to The White Stripes' Seven Nation Army being chanted en masse is understandable; football-based lyrical reboots of The Beach Boys' version of Sloop John B, less so. Usually a team's fans change the words to salute this or that star player. And, with most Saturday football matches in the UK finishing at 4:45.p.m., a reprise of that afternoon's big singalong once home an hour so later makes sense – especially if your team won.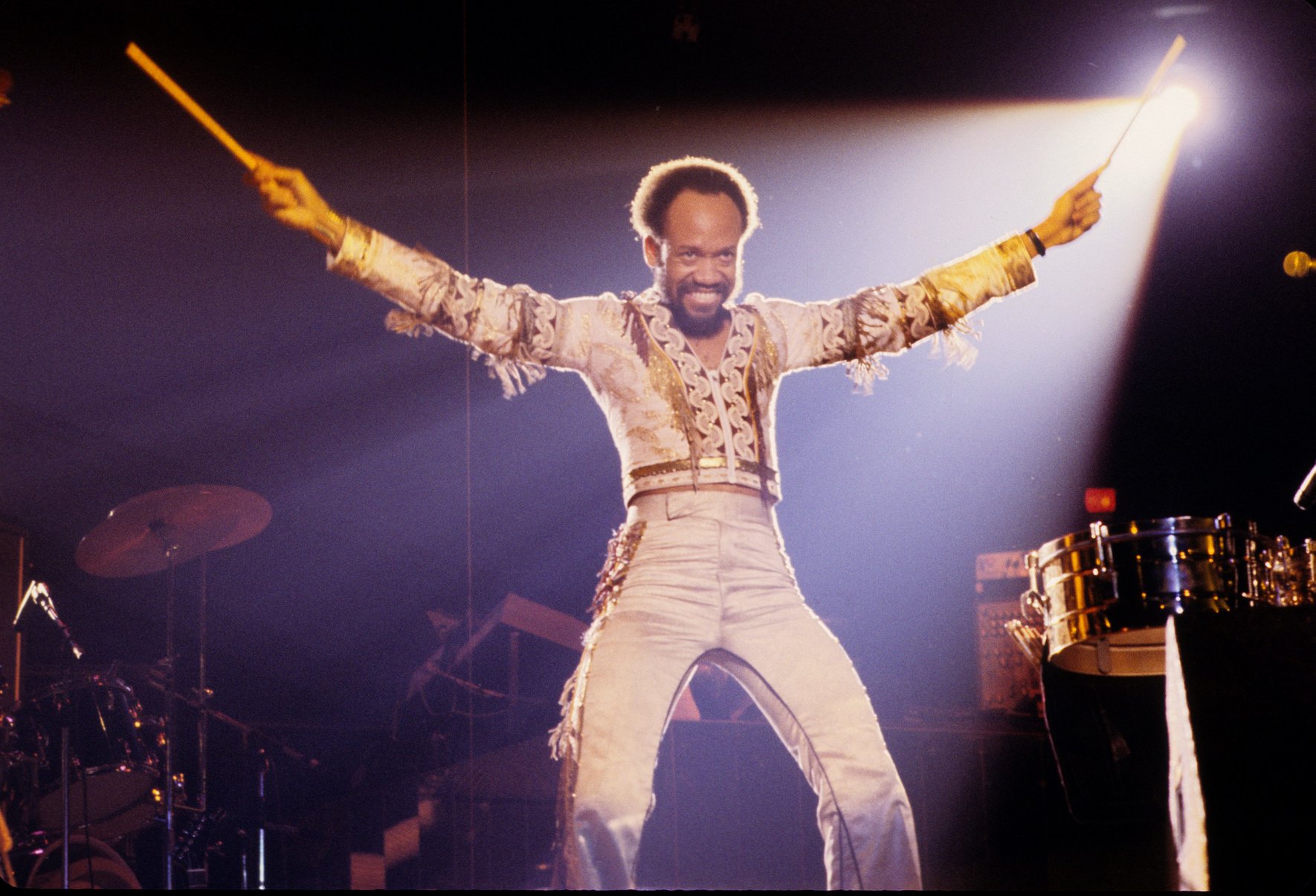 This past summer, "September's" football-based afterlife roamed even further. England fans at the World Cup in Russia adopted "September" as one of their rallying cries as—unusually for the often-underwhelming national side—their team advanced to the semifinals. Altogether now: "Wo-ooh-ah, England are in Russia/Wo-ooh-ah, drinking all the vodka/Wo-ooh-ah, England's going all the way!"
Still, as Willis tells it, "September's" chorus, cheerfully bastardized by the fans, could have gone another way. She remembers the songwriting sessions in spring/summer 1978 going right to the wire, and "September" still had White's habitual placeholder lyric in position.
"Maurice always used the phrase 'ba-dee-ya,' which starts out every chorus in the song, when first working on melodies rather than singing real words. And every time he did that, I said, 'Well, we're going to replace that with real words, right? 'Cause the song has to make sense.'
"Finally, it's the last day of recording. The deadline is midnight and it's 10 minutes to. And I was literally in the studio, on my knees, because I thought, 'Oh my God, this stupid phrase is going to ruin the whole thing.'
"So I finally said to this incredibly calm, soulful, spiritual man, 'WHAT THE F— DOES 'BA-DEE-YA' MEAN?' And Maurice essentially said 'Who the f— cares?' And I learned the biggest lesson of my songwriting career at that moment: Never let the lyric get in the way of the groove."
Trevor Nelson understands that sentiment. A veteran DJ and soul music legend in the UK, he dug in the crates to start playing "September" in his set five years ago.
"If you're making a dance record, you need the peaks," he explains. "So 'ba-dee-ya' is the height, it's euphoric. Plus, the song is at the classic tempo, around 126 to 128 BPM, which especially helps with getting the youngsters dancing."
Nelson also considers the production quality as a key factor in "September's" timelessness. "Earth, Wind & Fire were always slightly overproduced, let's be honest," he laughs. "Their productions were so clean. I always call them an entry-level soul-slash-dance band, and that means it's easy to love this song."
That "slickness" to the production, he adds, "makes it more palatable now—there are no rough edges.
"There were bands around then who were much rawer—Kool & the Gang were rawer, even the bloody Commodores were rawer! So Earth, Wind and Fire are in a time capsule with 'September.' You don't go, 'Oh, this is definitely a '70s song.' Obviously it is, but subconsciously you don't feel it is. That's why it sits so well with modern tunes in a DJ set."
This festive season, Nelson will be hosting two big club nights in London, The Big Soul Nation Christmas Party and his New Year's Eve Classics Party. For sure he'll be spinning "September," and at a crucial, judicious moment in his set.
"I'll play it in the last hour when I want to find out if people want the party to keep going. And my parties have the biggest breadth of ages, from 20-somethings to people in their 50s. And when I play 'September,' they all, all ages, always do want the party to go on. It's a uniting song, isn't it?"
Amen to that, says Al McKay. At the age of 70, he still tours the world with the Al McKay Allstars—and still performs "September."
"We're in the UK some time next summer, so we're looking forward to playing it. I'm so happy you guys did this for the song," he says, offering a grateful shout out to British fans. "Forty years, unbelievable! Makes me feel so young."
Which is exactly what "September" does for everyone, still—whatever the month, whatever the year.