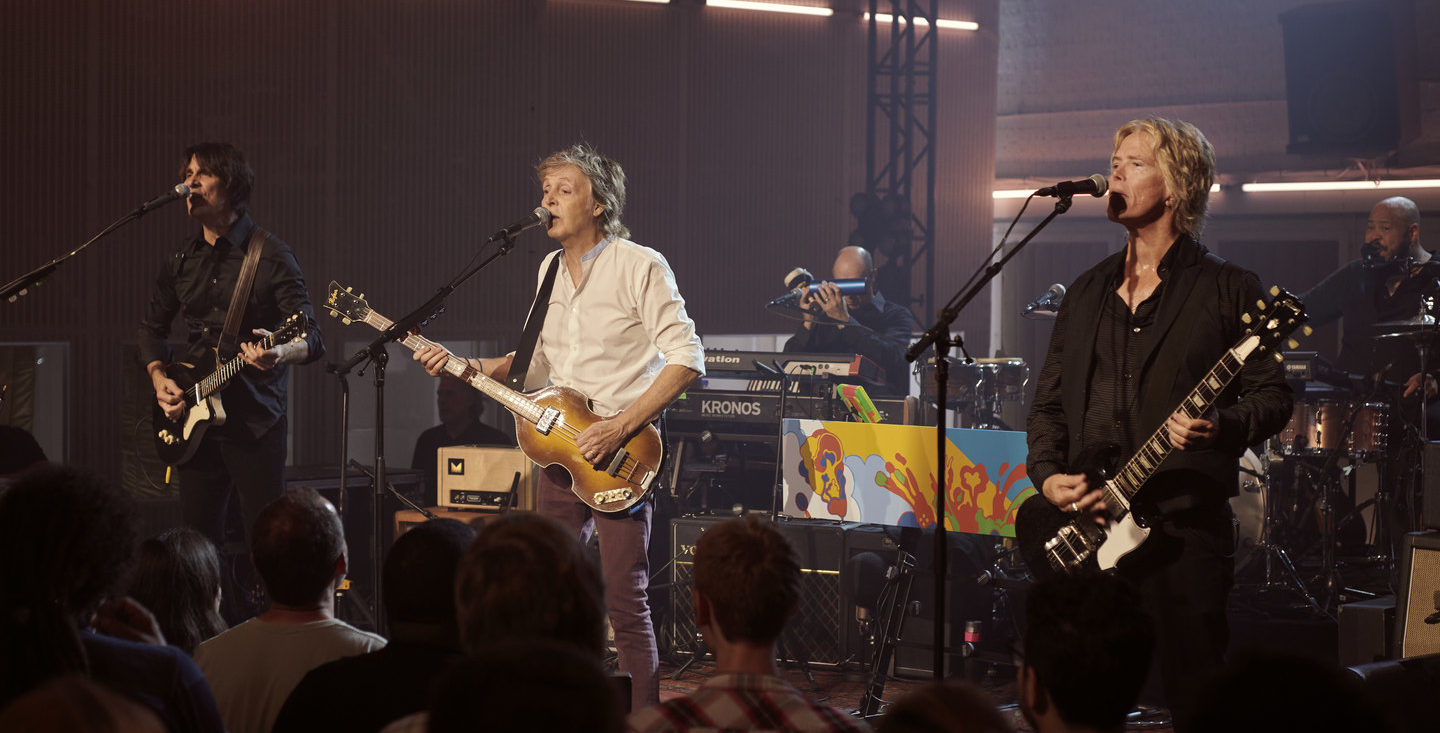 From Abbey Road to 'Under the Staircase' With Paul McCartney
Outside Abbey Road Studios in northwest London, it's one of the hottest days of the UK's record-breaking summer of 2018. The baking sunshine is one reason the customary clusters of fans and tourists thronging the gates—and traversing the planet's only celebrity zebra crossing—are even giddier than normal.
The other reason? A visit from Paul McCartney, the man who helped make Abbey Road Studios the most iconic recording studios in the world.
Here he comes, crossing the road in an image captured by his photographer daughter, Mary. He pauses in front of the doors and turns to wave to the bigger-than-normal crowd, its numbers swollen by social media buzz of something special afoot. Then he enters Abbey Road and heads under the staircase.
The former Beatle has, of course, been here before. But not like this. He's here to help launch his new solo album, Egypt Station, playing an exclusive Spotify concert in the compact environment of Studio 2. It's just him, his crack live band, his intimate memories of creating musical history in this very spot in the '60s, and two dozen of the greatest songs of all time.
If you weren't in the audience, fear not: all of these moments and more are now available in Paul McCartney & Spotify Singles: Under The Staircase, a first-of-its-kind audio and video playlist comprising 17 audio tracks and a feature-length concert film. Included in the playlist are 34 videos* highlighting the most special moments of the Abbey Road Session.
As is obvious in that film, as soon as he takes to the small Abbey Road stage with his four-piece band, McCartney is, as ever, down-to-earth, disarming and chatty.
"The very first time we came, we were kids," the musician says by way of introduction. Over half a century ago, McCartney, John Lennon, George Harrison, and Ringo Starr were fresh down in London from Liverpool. They were all in their early twenties, studio innocents, and they were treated like youngsters.
"We weren't allowed in through there, the staircase," he says, pointing to the steps down from the studio control room—a room occupied this afternoon, in another nice circular touch, by Giles Martin, producer and son of "the fifth Beatle," George Martin.
"That was for the grown-ups and we had to come in this entrance," McCartney continues, pointing to the back, "which was the tradesmen's entrance. And we had to bring all our stuff in. It was really very exciting, you can imagine, getting our first record session. For me, it's very easy to go right back there and remember us walking in here, us four little Beatles. George had a black eye because some guy in The Cavern got jealous and had hit him. We were doing photos, so in early photos, you'll see George with a nice little black eye."
Most of the 150-strong audience have gained entrance today by submitting a short video pleading their case. One young Australian won her ticket by explaining how she'd once travelled from Sydney to Japan to see McCartney, only to discover that the concert was cancelled. In a very nice way, Macca owed her.
Other audience members, meanwhile, have nabbed a golden ticket by being either a friend of the McCartney family—his wife Nancy Shevell is here alongside his musician son James, daughter Mary and her fashion designer sister Stella—and/or A-list fans. Step forward Stormzy, Kylie Minogue, Johnny Depp, Amy Schumer, Nile Rodgers, Orlando Bloom, Liv Tyler and J.J. Abrams—even celebrities aren't immune to the appeal of an audience with the most famous musician in the world. If the release of "Star Wars: Episode IX" is delayed, now you'll know why. Its director bunked off work for a private gig by his hero.
"We're going to just do various songs, some new ones off our new album and some old ones," says a clearly buzzed McCartney, concluding his introduction. "We're just going to keep it loose." Then, acknowledging the cameras dotting the room and Martin up in the control room, he smiles. "If they need us to do it a second time … we won't," he twinkled. "No, we will …"
And with that they're off, a band of musical brothers blasting brilliantly through some of the best of the Beatles, Wings and McCartney solos.
Here are songs that are the bedrock of pop, the cornerstones of culture. Here are the anthems usually heard live in arenas, as the never-ending Paul McCartney tour experience continues to pack them in around the world—all this, but performed sensationally up close and personal.
Now McCartney is hopping offstage, bashing out "Lady Madonna" on the studio's battered but trusty Steinway—the piano on which he actually wrote the song. Now he's telling us that the chorus to "Ob-La-Di, Ob-La-Da" with its line "life goes on" actually concludes with "bra," a nod to the Liverpudlian-African musician who inspired it. Now he's teeing up a performance of early Lennon/McCartney belter "I Wanna Be Your Man" by telling the story of the actual day he and Lennon saw Mick Jagger and Keith Richards passing in a taxi, jumped in and offered them the song—thereby providing the Rolling Stones their second single and first Top 20 hit.
Stories like that, about songs like those. And songs like these: "Confidante," "Fuh You" and "Come On To Me," standouts from Egypt Station that slot in very nicely alongside a catalogue of compositions that changed the world. Compositions that, according to their self-effacing co-creator, burst to life, here at Abbey Road, in the humblest of ways: "We got in at 10, then you had a half-hour to tune up, have a ciggie, have a cup of tea.
"Then, 10:30, a producer would arrive and come down the staircase and say, 'OK, chaps. What are we going to do?' And whoever wrote the song would show the others—nobody knew the song except me and John. Even George and Ringo hadn't heard it because we'd written it the week before and this was, like, Monday morning.
"We'd show the guys the song and that would take about 10 minutes or something, do it a few times. Then we'd go to our instruments and start recording. And you had an hour and a half from that point to finish the song completely. Then it was like, 'OK, on to the next one.'
Did he and his band have to do any songs a second time? Of course they didn't. He's Paul McCartney and by now he kinda knows what he's doing. But Spotify users, of course, can listen to them as many times as they like. Welcome to Under The Staircase. You might find it difficult to leave …
*The 34 videos are only available in the following markets: UK, US, SE, CA, AU, NZ, LATAM