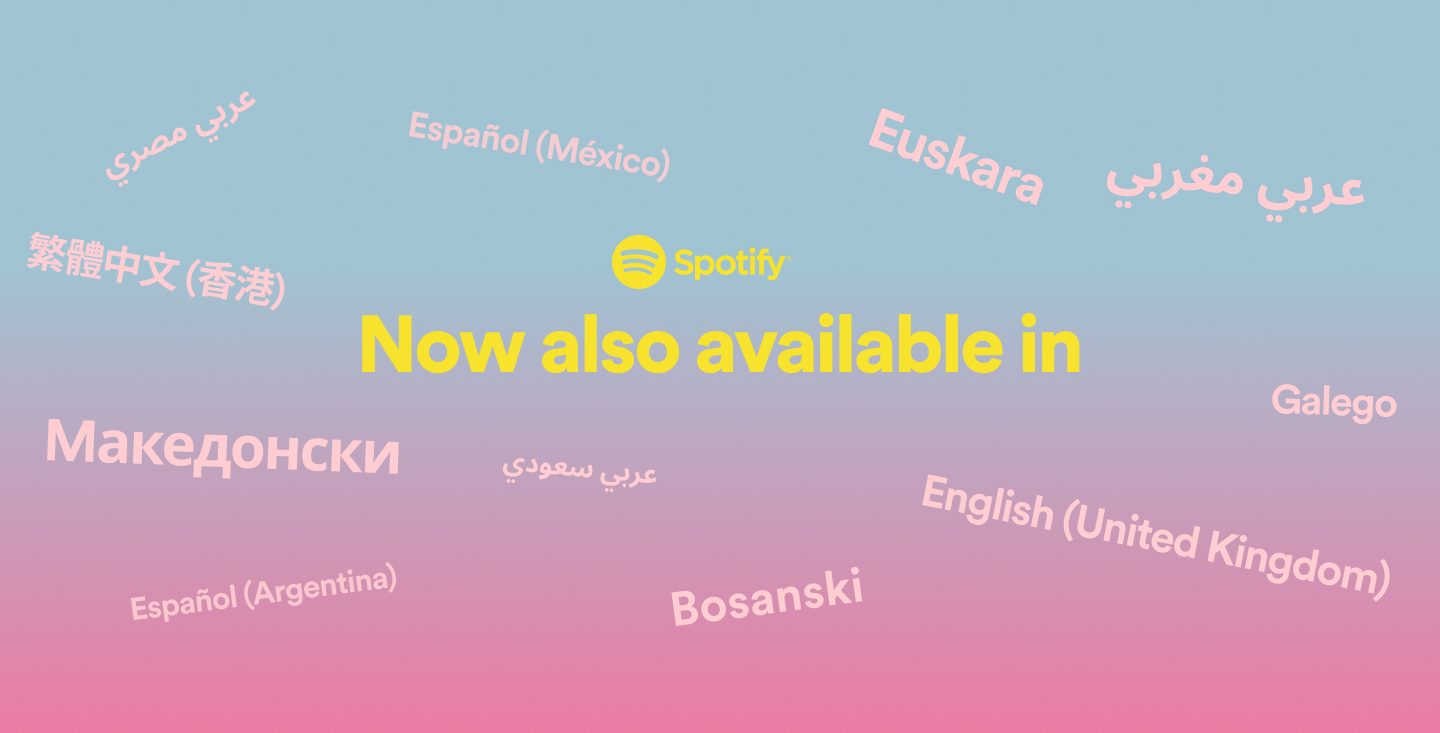 WELCOME ABOARD
Spotify Rolls Out 11 New Languages to Users Around the World
At Spotify, we're committed to bringing the best in audio to our users around the world. That means ensuring our experience is accessible in the languages our users speak, no matter where they are. Beginning today, Spotify will be supporting 11 new languages and dialects across mobile, bringing the total number of languages on Spotify to 74. 
So, in addition to the 27 languages we originally launched with and the 36 languages we rolled out in 2021, Spotify's mobile app will now also support: 
Spanish – Argentina

Spanish – Mexico

Traditional Chinese – Hong Kong

Arabic – Egypt

Arabic – Saudi Arabia

Basque

Bosnian

English – U.K.

Galician

Macedonian

Arabic – Morocco
This expansion will unlock an even more personal experience for our users, giving them the ability to access Spotify in their native or local tongue. And the more people who can use Spotify, the more connections we can foster between creators and their audiences.
For guidance on how to change your Spotify language settings, head to: https://support.spotify.com/us/article/change-language/
Here's a full list of available languages:
Afrikaans

Amharic

Arabic (Egypt)

Arabic (Modern Standard)

Arabic (Morocco)

Arabic (Saudi Arabia)

Azerbaijani

Basque

Bengali

Bhojpuri

Bosnian

Bulgarian

Catalan

Chinese (Simplified)

Chinese (Traditional)

Chinese (Traditional) Hong Kong

Croatian

Czech

Danish

Dutch

English

English (United Kingdom)

Estonian

Filipino

Finnish

French (Canada)

French (France)

Galician

German

Greek

Gujarati

Hebrew

Hindi

Hungarian

Icelandic

Indonesian

Italian

Japanese

Kannada

Korean

Latvian

Lithuanian

Macedonian

Malay

Malayalam

Marathi

Nepali

Norwegian

Odia

Persian

Polish

Portuguese (Brazil)

Portuguese (Portugal)

Punjabi (East)

Punjabi (West)

Romanian

Russian

Serbian

Slovak

Slovenian

Spanish (Argentina)

Spanish (Latin America)

Spanish (Mexico)

Spanish (Spain)

Swahili

Swedish

Tamil

Telugu

Thai

Turkish

Ukrainian

Urdu

Vietnamese

Zulu