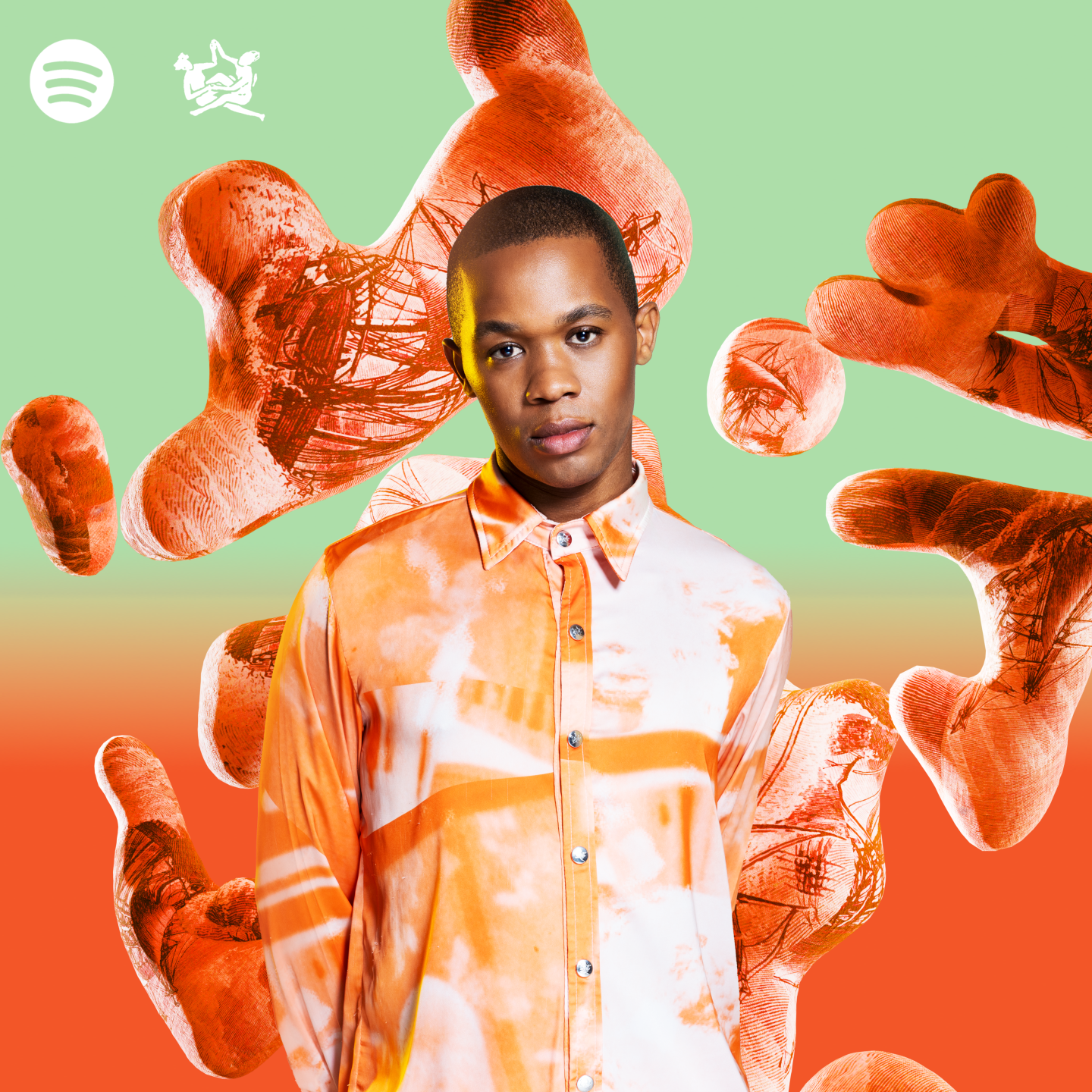 WEAR IT WELL
Designer Thebe Magugu Reveals the Music That Inspired His 'Folklorics' Collection
South African fashion designer Thebe Magugu built his name through sleek, forward-looking pieces that often intersect with the culture and history of his home country. Since establishing his eponymous fashion label in Johannesburg in 2016, Thebe has gone on to win multiple prestigious awards and collaborate with some of the world's top fashion labels. 
Just as his vibrant designs recently turned heads at Paris Fashion Week, Thebe's now out to catch the ears of Spotify listeners with his takeover of Fashion Forward. 
Inspired by his autumn/winter 2023 collection, Thebe's playlist features music that dances the line between contemporary and timeless, with songs that apply modern touches to familiar motifs. With the first half of the playlist exploring a transcendental strain of dance music that Thebe calls Afro-Trance, the second half features songs that have been stripped down to two of music's most essential elements: vocals and acoustic instruments.
"Storytelling has always been an immovable facet to African culture," Thebe told For the Record. "Artists especially have always found the most progressive ways to express our vivid internal landscapes. My playlist features artists who I listened to religiously throughout the development of my new collection, titled 'Folklorics.'"
For the Record recently sat down with Thebe, who spoke about music, his work, and what inspires him.
You've mentioned that this playlist was inspired by your new collection. How did you approach the creation of both?
As the name "Folklorics" suggests, the collection looks at the past through a modern lens, much like the artists in my playlist. They beautifully combine the past and present—while offering slight suggestions for the future—through intelligent, genre-bending, and Afrocentric stories.
What types of music did you grow up listening to?
My uncle converted our garage into a tavern when I was a baby and my room was right next to the garage. So the music would play at full volume until about 4 a.m. every day. In many ways, I grew up around music with no choice! 
On weekdays, the music would be old-school hits from The Manhattans, The Isley Brothers, and Issac Hayes. Thursday onwards would be house and kwaito music like Dj Cleo, Dj Kent, DJ Sbu. Sunday was ladies night, which featured R&B Legends like Brandy, Tamia, and Aaliyah.
How do you infuse music into your creative process?
It's present from the very beginning. I unfortunately can't work in silence, so everything I do is kicked off by music, and it's important to figure out which genre I begin with. If I am dealing with a harrowing subject matter, it helps to listen to artists who are unafraid to really explore dark themes in their work.
What was on your musical mood board for this Paris Fashion Week?
Paris Fashion Week is extremely high-pressure and high stakes, so it helps to listen to music that has the opposite effect. I listen to a lot of Sade and Lana Del Rey during high-stress situations, because their music is often so introspective that it helps isolate you from the craziness of the world. 
What did you showcase in Paris? How do you think the creative community will respond?
Whether carved on stone or retold orally from generation to generation, Africans have always had poignant, urgent stories to tell and preserve. This season, I wanted to take some of those stories I was brought up on—from mermaids steering ships to wreck, to cunning spirits one should never call by name—and translate them into a collection for the everywoman.
You're a designer, but you're also an entrepreneur. How do you merge the more creative and the more practical sides of your brain?
It's about discipline, and also recognizing that creativity and passion must be supported by firm and stable business practices. At the end of the day, fashion is a business, and one must strike a balance that will allow creativity to thrive through commerce. 
It's strange when people say something is commercial and make it out to be a bad thing, because that's what allows your story to reach more people who will be able to see themselves in the universe you've created. Ensuring work is desirable will increase sales, which will allow you to create more desirable work, thus forming a great cycle. One thing feeds the other. 
What are your biggest sources of inspiration?
If you look at my work and themes closely, they've always been about the human condition: the good, bad, and ugly. In that sense, I don't think I will ever run out of inspiration, because people will always surprise you. We are boundless. 
Discover the inspiration behind Thebe's latest collection by listening to his takeover of the Fashion Forward Playlist.