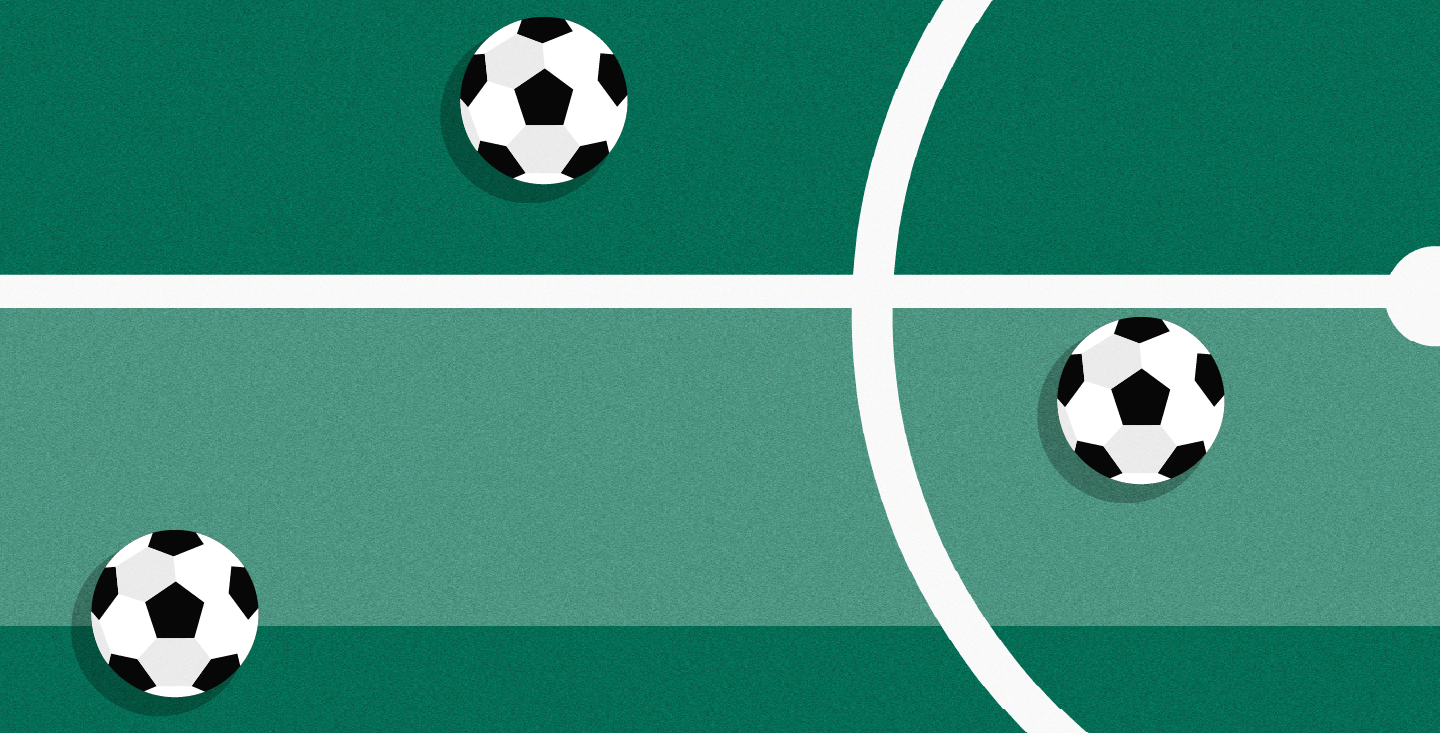 EYES ON THE PRIZE
Celebrate Football's Biggest Tournament With the Most Popular Anthems, Playlists, and Podcasts from Around the World
After four long years, the biggest sporting event on the planet is finally back. All around the world, football fans are passionately supporting their national teams and celebrating the world's game by listening to their favorite anthems.
While every country has its own iconic football songs, fans everywhere share a common love of the official anthems from past tournaments. We took a look at our listening data to figure out which official football anthems were the most popular.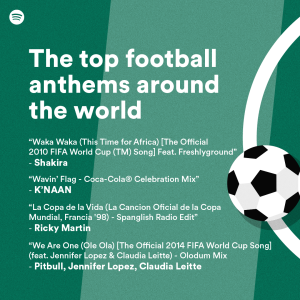 So which anthems do fans love the most? 2010's competition in South Africa gave fans not one, but two songs—Shakira's "Waka Waka (This Time for Africa) [The Official 2010 FIFA World Cup™ Song]," and K'naan's "Wavin' Flag – Coca-Cola® Celebration Mix"—and it's these hits that fans have gravitated to the most. 
Ricky Martin's 1998 song "La Copa de la Vida (La Canción Oficial de la Copa Mundial, Francia '98) – Spanglish Radio Edit" was the third most popular, while Pitbull, Jennifer Lopez, and Claudia Leitte's 2014 song "We Are One (Ole Ola) [The Official 2014 FIFA World Cup Song]" rounds out our list of the most popular anthems. 
But the fun's not stopping there. Across the globe, fans and creators have released a wide variety of playlists and podcasts as they get ready for the big tournament. And while we've already shared some of these offerings, such as the podcast 22 Goals, there is plenty more that we're excited to help the world discover.
Fans get in on the action
In addition to listening to their favorite tournament anthems, fans have turned into creators, making their own football-related playlists that have attracted a staggering number of listeners. 
And when it comes to the countries that have created the most football-related playlists, our data shows them as Argentina, Brazil, and then Mexico.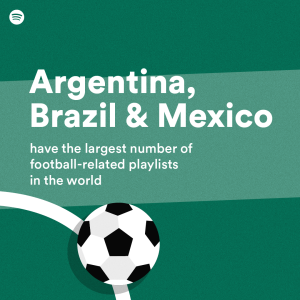 In Argentina specifically, fans have been drawn to the sounds of World Cup Songs / Canciones de los mundiales (with nearly 400,000 followers), Fútbol Argentino (with more than 275,000 followers), and ESTRENO MUNDIAL (with more than 210,000 followers).
Destination: Latin America
Given Latin America's support of football on Spotify, it only made sense to help fans discover the wealth of content that is out there for them to enjoy. That's why we've created a special hub full of the country's top football playlists and podcasts.
As fans get fired up on match day, they'll be able to listen to playlists like Himnos de Futbol, Himnos de Estadio, Previa Futbolera, Asadito, Cancionero Popular de Argentina, Asadito Cumbiero, Mates y Música, and Gracias Diego. 
When they want to dive deeper into the stories behind the beautiful game, they can tune into podcasts like La Scaloneta, Sorbos de Copas, Red Gol al Arcos, and La Primera Jugada.
And for fans of Argentina, we've created a series of special playlists for those moments when they want to reminisce about the Albiceleste's historic moments and revisit the popular sounds of the time: pov: 22 de Junio de 1986, Estadio Azteca, pov: estás en el vestuario de La Scaloneta, and pov: no fue penal.
Relive the biggest moments in tournament history with Maldini Mundial 
Just in time for the big tournament, football fans in Spain can now enjoy Maldini Mundial, a new Spotify Original podcast. Over the course of 10 episodes, Maldini Mundial takes listeners through the most incredible and surprising anecdotes from football's world tournaments, narrated by one of the world's leading experts on international football, Julio Maldonado Maldini.
In the first episode, "Maradona and the Shirt of God," the story revolves around Argentinian football legend Diego Maradona and his miraculous goal during the 1986 tournament in Mexico that's regarded as one of the greatest of all time. The second episode, "The Sparwasser Legend," takes a look at Jürgen Sparwasser, the East German footballer who scored the lone goal that propelled his side over West Germany during the 1974 tournament amid a backdrop of political complexity. Every Friday until December 16, Spotify users can enjoy a new episode of the show.
Get to know one of Germany's rising stars
On November 24, we'll be premiering a new podcast for German football fans: Karim & Ben Machen Auge. In this series, footballer Karim Adeyemi—the 20-year-old rising star who plays for Bundesliga club Borussia Dortmund and the German national team—teams up with his best friend Ben Bako to offer a close-up look at his rise to stardom, and takes a look back at a defining year that has culminated in a trip to the big tournament. 
But more than revisiting his triumphs on the pitch, the show also looks at the personal side of Karim and his life as a friend, son, rebel, rap fan, and gamer. During each episode, Karim and Ben will go back and forth with one another, talking about sports, pop culture, music, fashion, and more.
So, are you ready to support your team? The biggest sporting event in the world promises to bring plenty of thrills, and with Spotify, you can soundtrack every moment of glory.
Get into the tournament spirit with our playlist Himnos de Futbol: