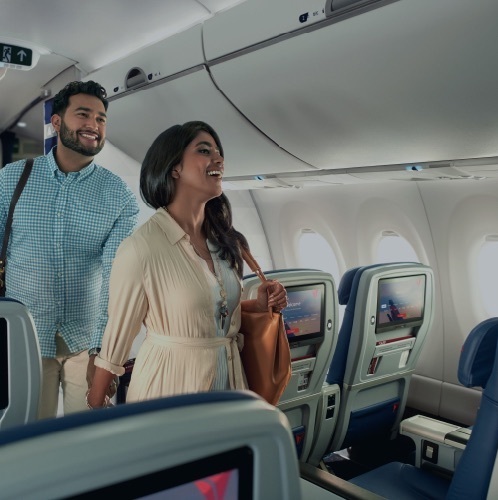 NEW HEIGHTS
Upgrade Your Travel With Our New Delta Experience
Spotify and Delta are ready to make your next flight soar. In the past, we've shared exciting perks that come with the partnership between your favorite audio streaming service and airline. Now we're taking these benefits to new heights.
We're putting our own spin on the boarding process by curating the music that plays as you find your seat. The playlist will update monthly to include Delta customers' favorites, so even frequent flyers will experience a fresh music rotation.
Before you recline your seat, take a look at the new music playlists featured in the seatback entertainment. Part of these offerings is our This is mixtape series, including The Weeknd's mixtape, This is The Weeknd. We will continue to add artist "This is" mixtapes from a variety of genres, giving every traveler something to enjoy.
If you're traveling with kiddos, you'll want to check out three new podcasts available on Spotify's Kids & Family hub in the Delta seatback entertainment. For the first time ever, Spotify will be taking over the audio section of the Delta Sky Kids hub with the podcasts Deep Blue Sea, Gardenkeeper Gus, and 100 Cinderellas: Bedtime Stories From Around The World—and keeping the family enthralled from wheels up to touchdown. 
And beginning this December, Spotify's longest-running original content series, Spotify Singles, will appear on Delta flights wherever there's seatback entertainment.
These new offerings are ways Spotify is hoping to improve your travel experience. Delta's data shows that flyers frequently picked our Sleep mixtape or Relax & Unwind mixtape to soundtrack their flights. And when it comes to podcasts, storytime passes the time with Unexplained Mysteries, The Two Princes, and Mythology being the most-listened-to podcasts on flights around the globe.