MULTILINGUAL MUSIC
Meet Lous and the Yakuza, the Belgian Artist Who Can Sing in Any Language
A subtle assortment of styles swirl together in the music of Lous and the Yakuza, the stage name of Marie Pierra-Kakoma. Across her first three singles, Pierra-Kakoma leans into snappy, minimalistic R&B ("Dilemme"), slinky, melodic trap ("Tout est gore"), and nuanced, introspective pop ("Solo"), all of which she sings in French with equal parts age-old poise and modern swagger.
Having penned her very first songs at the same time as she learned how to read and write—around age 6 or 7—Pierra-Kakoma found her calling early on and hasn't doubted herself since. "I started writing and never really stopped. I was writing until my wrist hurt, but now I'm more relaxed about it," she said to For the Record.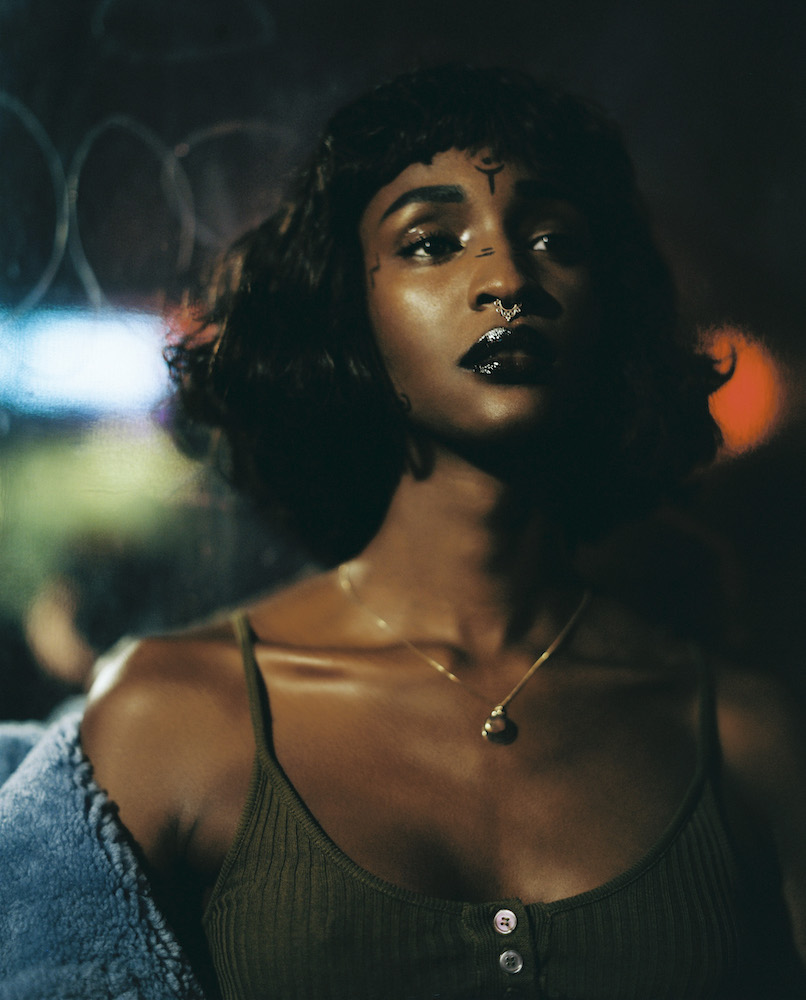 That laid-back confidence is in part what led to her being chosen by Spotify France to be part of Spotify's RADAR initiative. The program features artists from over 50 markets worldwide and helps performers at early stages of their careers broaden their fan bases and build strong relationships with them via Spotify's social channels, RADAR playlists curated by Spotify's editors, and bespoke marketing initiatives.
Pierra-Kakoma's confidence comes most alive when she seamlessly blends various global styles into a single song, which she is able to do thanks to having experienced so many cultures growing up. She was born in the Congo before moving to Belgium and then Rwanda with her family as a child. Pierra-Kakoma returned to Brussels, her current home, in her teens. Her latest single, "Solo," is inspired by being a black woman of Congolese heritage.
Now in her mid-20s, Pierra-Kakoma sings predominately in French but often incorporates phrases from English as well as from Kinyarwanda, a language spoken in the Congo and Rwanda. Rather than placing them intentionally, Pierra-Kakoma didn't even notice the brief linguistic detours until months after mixing her upcoming debut album, Gore. "To be honest, it was so natural to me," she told For the Record. "I had inserted words in different languages without being conscious of it."
Her stage name similarly bridges cultures and concepts, starting with Lous, which is an anagram of the word "soul." "I'm a very spiritual person and need to be reminded of spirituality at all times in my life," she observed. "So I carry that as my name now."
Yakuza, meanwhile, harkens back to Japanese culture, where it's best known as the name for Japan's organized crime syndicate. Inspired by its outsider connotations, Pierra-Kakoma recast the term to describe her tight circle of fellow mavericks. "It stands for all the people I work with but who are living in the dark, from producers [and] beat makers to label and PR," said Pierra-Kakoma. "Also, Yakuza mafia are extremely loyal and have a great sense of pride and family, and those are the values I relate to."
Her own loyal collaborators so far include Brussels hip-hop beat makers Ponko (Slim Lessio, Hamza) and Mems (Damso, KeBlack), as well as Italian rapper tha Supreme and Italian singer Mara Sattei, who appear together on the recent remix of "Dilemme." But by far her most frequent collaborator is the Spanish solo artist and producer El Guincho. After Pierra-Kakoma heard Guincho's low-key, clapping beat on Rosalía's "Malamente" she decided to make the bulk of Gore with him.
While that album has been delayed until the fall of 2020, Pierra-Kakoma is still humming with excitement from picking up new skills in the studio. "I learned a lot of things, especially technical things," she recounted. "I'm super curious—I always wanna know what everyone is doing and why they are doing it. I was already hardworking, but Guincho really pushed me … that was a great challenge."
As promised by the stylistic shifts across her singles so far, as well as her omnivorous openness to varied influences, Gore is expected to celebrate all of Pierra-Kakoma's diverse strengths. "I'd say my album is extremely wide in terms of subject, intensity, feelings, and messages. All my songs are brutally different and similar at the same time, because it is my brain, heart, and soul that wrote it all."
Check out more of the artists selected for Spotify's worldwide RADAR program.