URBANO UNPACKED
How Spotify Spotlights Breaking Latin Talent
In the past year, Spotify's ¡Viva Latino! playlist highlighted nine rising artists in its original video series Radar Latino and helped bring their success to new heights. As the flagship playlist for the biggest hits in Latin music, ¡Viva Latino! closely followed this crop of artists, who were poised to become the next hitmakers on the list, amplifying them for fans with in-depth video profiles.
Representing a wealth of different styles and countries, these artists enjoyed an average 49% increase in streams after being featured. They found their own measures of success, earning cosigns with Shakira and reaching other career milestones.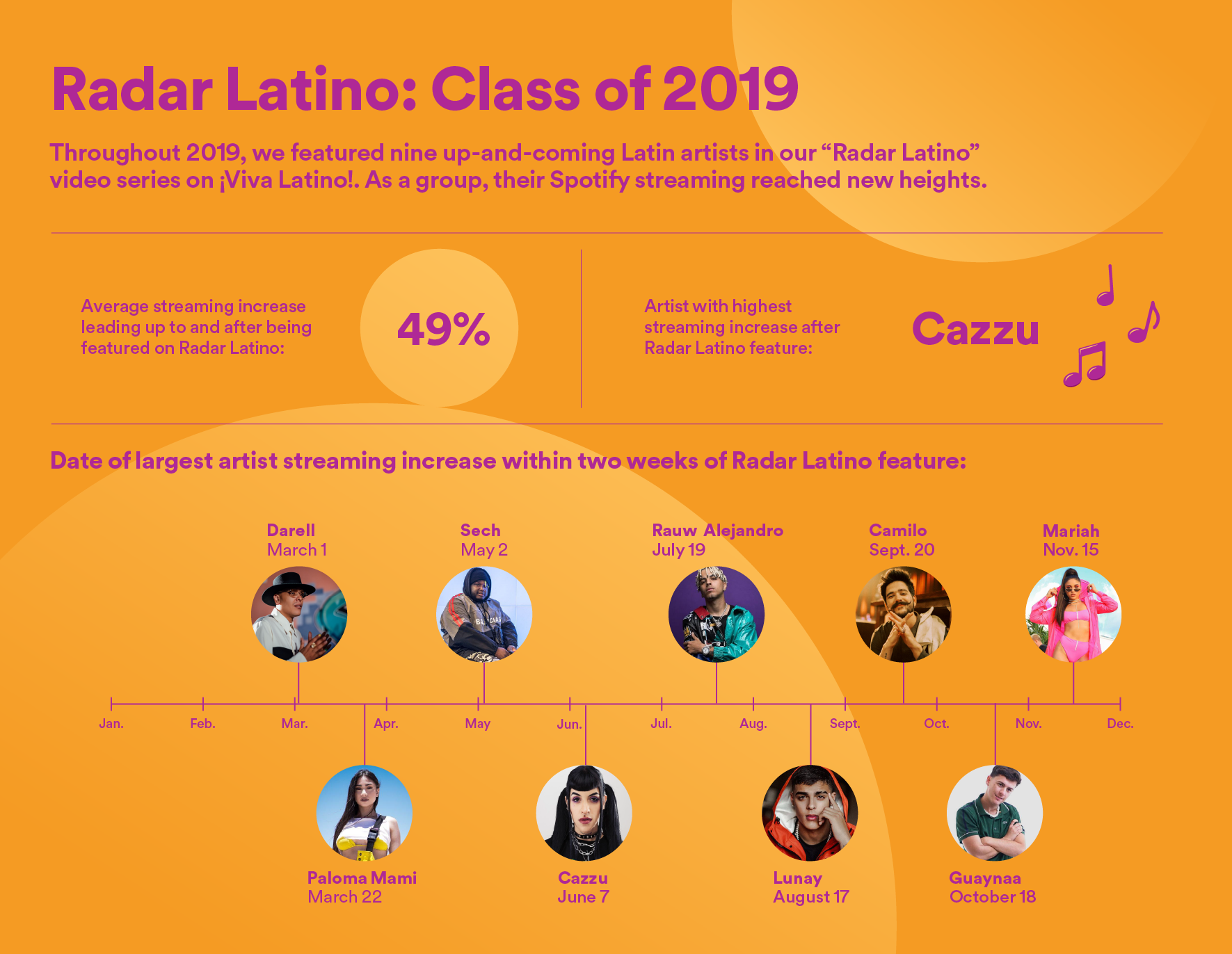 Puerto Rican urban pop singer Darell, the first artist showcased with a Radar Latino feature on ¡Viva Latino! in 2019, made his major-label debut in February with the low-slung thumper "Caliente," a team-up with hugely successful countryman Farruko. Laying claim to a slow, hypnotic flow, he released a stack of notable singles in 2019, including the supple headline cut "No Vuelvas Más" ("Don't Come Back Anymore").
In March, soulful New York/Chilean singer Paloma Mami saw her delicate urban ballad "Fingías" launch with a Radar Latino profile and song placement on the ¡Viva Latino! playlist, leading to her biggest spike for single-day streams to date. The single went gold on the Latin pop chart, and Paloma quickly followed it with the C. Tangana collaboration "No Te Debí Besar" and the sultry summons "Mami" (anchored by the English vocal hook "I like it when you call me mami"). Despite only singing professionally since June 2018, she's now one of the hottest female artists in Latin music, and her plays increased by more than 100% in the week after that playlist appearance.
Commanding more than 20 million monthly listeners, Panamanian reggaeton singer Sech had a banner year that kicked into high gear after his Radar Latino feature in ¡Viva Latino!, which highlighted the release of his debut EP, Sueños. He went on to perform at Spotify's ¡Viva Latino! Live in Miami and enjoy one of the biggest hits of the summer in "Otro Trago" ("Another Drink"), which hit number one in multiple countries and achieved diamond sales. The former producer and lyricist for other artists hails from Panama City, where his father is a well-known local pastor. Thanks to "Otro Trago" and its remix, Sech is still riding the wave of his explosive Latin music success story. He told For The Record, "[Being featured on ¡Viva Latino!] is something I'm very proud of, as there are thousands of artists that could've gotten it, and it's truly an honor to be one of them."
After being featured in ¡Viva Latino!, Argentinian rapper/singer Cazzu saw her streams increase more than 200%. She has amassed more than 20 million streams for her infectious yet emotional single "Visto a las 00:00," which debuted on the playlist in June along with her Radar Latino video profile. Cazzu also released her second album, Error 93, to great acclaim in June. She's one of the most distinctive artists from the Radar Latino class of 2019, earning a cult following for her alternative style and embrace of trap's chilled-out swagger; "Mucha Data" especially showcases her purring, coolheaded vocals over ultra-skeletal production.
A Puerto Rican singer and multi-instrumentalist who aims to unite music and dance at the level Michael Jackson did, Rauw Alejandro released his silky, slinky single "Detective" alongside his feature in ¡Viva Latino!. Arriving hot on the heels of his debut EP, Trap Cake, Vol.1, that romantic highlight provided a serious boost for the artist, with his audience now topping 15 million monthly listeners. Almost as passionate about soccer as he is about music, the prolific collaborator kicked off 2020 with a guest spot on Jay Menez's intricate Latin trap cut "Solo."
After his breakthrough single "Soltera" appeared on ¡Viva Latino!, teenage Puerto Rican artist Lunay released his debut album in late 2019. He was profiled on the playlist in August with that song's remix, featuring Daddy Yankee and Bad Bunny; it topped the pop charts in Spain. Influenced by Puerto Rico's native La Plento music, Lunay mingles those proud roots with up-to-the-minute reggaeton and Latin trap. The melodious, charismatic singer is also a tireless collaborator, having achieved back-to-back gold sales via recent team-ups with Zion & Lennox ("Llégale"), Myke Towers ("La Cama"), and Anuel AA and Ozuna ("Aventura").
A winner of X Factor in his native Colombia, Camilo is an affable, versatile Latin pop singer as well as a successful songwriter for such artists as Becky G, Natti Natasha, Juanes, and Leslie Grace. After his poignant 2018 turn on Mau y Ricky's "Desconocidos," the deeply spiritual artist (who begins every day with a meditative ritual that he calls "airplane mode") was showcased in a Radar Latino profile on ¡Viva Latino! in tandem with his mainstream breakthrough "Tutu." The track has since topped the charts in seven countries and earned a remix costarring none other than Shakira.
There's also Puerto Rico's Guaynaa. A former horse jockey who grew up listening to music with his troubadour grandfather, Guaynaa was still splitting his time between horse racing and music when French superstar DJ Snake shared his breakthrough track "Rebota" on social media. The unexpected boost encouraged the rapper and reggaeton singer to devote himself fully to music. Since then he has been profiled by Billboard and collaborated with Mala Rodriguez ("Dame Bien"), Mon Laferte ("Plata Ta Ta"), and Yandel ("Full Moon"), always showing off his cool, confident flow and pop sensibilities.
¡Viva Latino! capped the year by spotlighting Mariah, a Miami singer with Puerto Rican and Cuban heritage who grew up listening to reggaeton (and yes, was named after Mariah Carey). Her breakthrough came with last year's swaggering reggaeton earworm "Perreito," which made it onto Spotify's Viral 50 chart in 16 countries. Produced by Nely El Arma Secreta, the track has since been remixed with guest spots from Darell and Arcangel. Mariah quickly followed it up with "Una Noche Más," a more traditional track that shows off her softer side, and teamed up with fellow Radar Latino selection Guaynaa on the just-released "Taxi." "I never thought I would be on this level," said Mariah to For The Record. "And now I wake up and I'm traveling the world. It's a great honor to have been featured as one of Spotify's Radar Latino artists. I'll never forget it."
As 2020 builds steam, fans around the world can check out more of the year's rising Latin artists on Spotify's Radar Latino playlist.