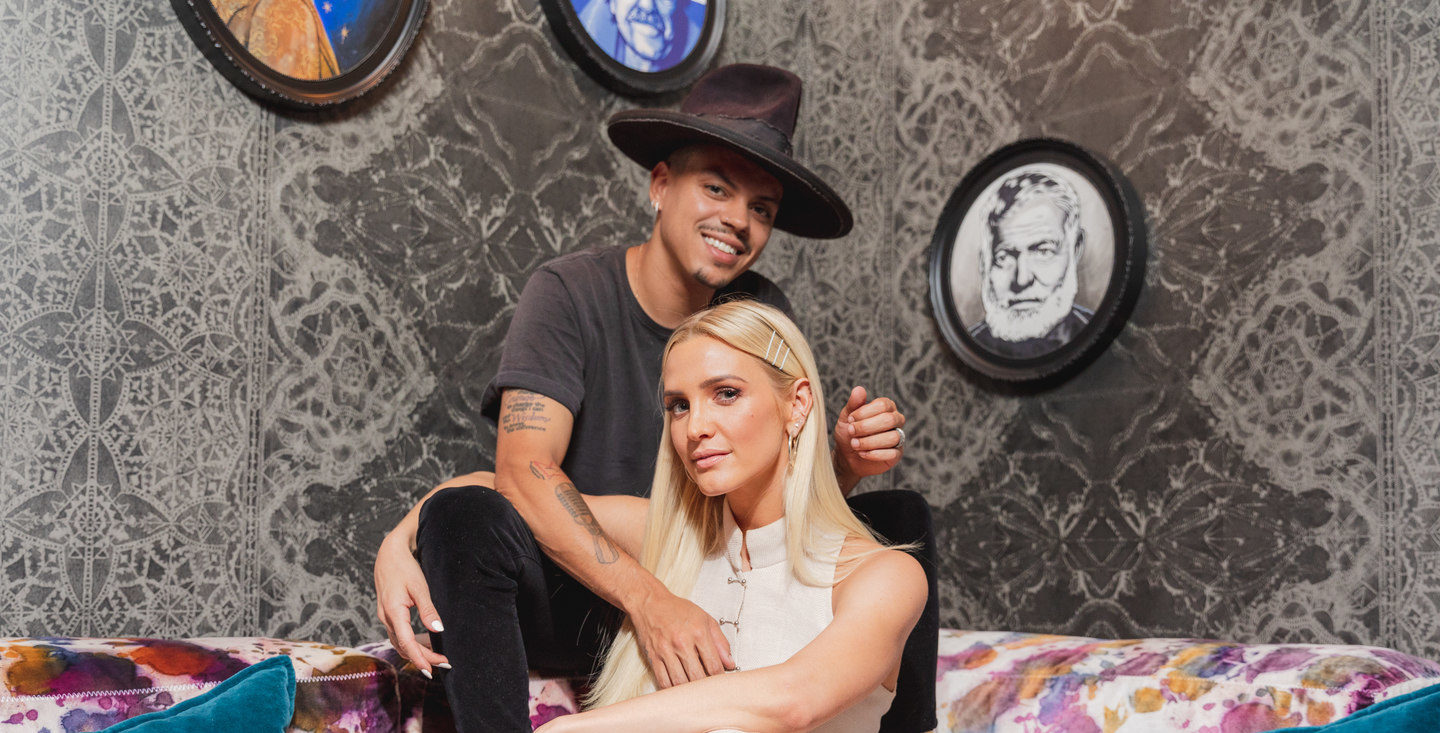 ENDLESS LOVE
Ashlee Simpson Ross and Evan Ross Share the Love and Inspiration Behind Their New Music and TV Show
You could definitely call Ashlee Simpson Ross and Evan Ross a Hollywood power couple. Ashlee, who began her career in 2004 with the mega-popular Ashlee Simpson Show and debut record Autobiography, and Evan, a musician and actor known for his roles in the blockbuster Hunger Games series and 90210, can surely navigate the spotlight on their own. But now they're doing it together as husband and wife, with a brand new duets album and accompanying docu series. Add their two young kids and famous families to the mix (Ashlee is sister to Jessica, while Evan's mom is music legend Diana Ross), and life in front of the cameras can be pretty hectic.
Their new E! docu-drama show, Ashlee + Evan (airing Sundays at 10 p.m. ET), offers fans an inside glimpse into the glamorous, yet ultimately relatable lives of the superstar couple. The series details the creative process behind their upcoming record, showcasing the passion they share not just for music, but for their kids and each other. "This record is about love," Ashlee says.
To help spread that love, Ashlee and Evan visited Spotify to create a playlist of their favorite songs and influences. In addition their own new music–like the soulful, romantic single "I Do"– the couple highlighted artists that inspire them like Michael Jackson, Leon Bridges, Marvin Gaye, and of course, Evan's mom's legendary group The Supremes.
While they picked out the perfect tunes, Ashlee and Evan opened up about their own new music, their talented kids, and what it's like to share their lives on camera. Read what they had to say and stream their playlist below.
What first inspired you to start making music together?
Ashlee: When we first started dating, we'd have late nights until 3:00 in the morning singing together. But we didn't really plan to do it. I think it was when Evan was working on an album, and I came into the studio to visit. We recorded a song, "Permission to Love." That's when I knew we worked well together. It's something we've been wanting to do for the past three years. But then I had our daughter, Jagger, so it didn't feel like the right time until now.
Evan: It also helped that we did the show, because it put a time limit on things. Otherwise we'd probably be making music forever. Though I'm sure we'll still be making music together forever. It's been a really fun process.
Do you have a favorite famous music duet?
Evan: You know I've got to say "Endless Love."
Ashlee: I definitely love a good Peaches & Herb. Or Sonny & Cher.
Evan: You love that Peaches & Herb.
Ashlee: I do! My grandparents shared them with me when I was younger.
Evan: We danced to "Love Is Strange" at our wedding.
Evan, has your mom, Diana Ross, mentored you during this process?
Evan: I wouldn't say she's mentored us, but she's so supportive and has been so helpful. She came up with a melody for one of the songs, and it was incredible. She always gives good advice. She's so happy we're finally putting music out. Both our parents have really been part of the process.
Have your kids shown any interest in music?
Evan: 100%, yes.
Ashlee: Jagger calls Evan's mom "Ami." So she loves an Ami concert. She sings all the words.
Evan: And Bronx definitely knows every song on the radio.
Would you encourage them to pursue music careers?
Ashlee: My son never got to see a huge part of me and what I am, and how I am when I'm performing, and I'm so happy to be back at it. To share that with him is really cool. I want them both to follow their dreams, whatever they may be.
Ashlee, you were just a teen when you first started your career. What has changed now that you're a wife and mother making music with your husband?
Ashlee: There's definitely a different approach. What's so nice about looking back on my albums is that it actually feels like a walk down memory lane. I was growing up and going through a lot of different things, like first breakups. I'm very proud of all that. But this time around with my husband, this record is about love.
Evan: It's its own thing.
Ashlee: Totally. We never said that it had to be pop rock, or had to sound like me. People don't know, but I'm super inspired by soul music, and Erykah Badu, and Lauryn Hill, and Sade. I think that when you listen to our music, you'll hear a lot of different influences.
Evan: Not all the songs are exactly alike. They have different vibes.
Ashlee: We worked with so many amazing people, like Verdine White from Earth, Wind & Fire.
Evan: He played on six of our songs. The idea that we got to work with Earth, Wind & Fire is just …
Ashlee: … It was like, "Is this really happening?" You could feel the love. It really felt like something special was happening.
What do you hope fans take away from the show?
Ashlee: I hope that people will see something positive. We executive-produced the show because we want to share that, and share where we are in life. We wanted it to feel real.
Evan: We want people get to know us, and see the real, authentic truth to who we are, and the love we share. We hope that inspires them.
Ashlee, you experienced some very public highs and lows in the beginning of your career. Looking back on that period, what advice would you give to your daughter or other young women about fame?
Ashlee: I definitely had highs and lows in the beginning. Regardless of whether or not you're in the public eye, people go through their own journey. It's important to remember who you are as an artist. For me, I would remember why I made an album, and that helped me stand up for it and carry on. You have to believe in yourself.
Watch Ashlee + Evan Sunday nights at 10:00 pm E.T. on E!, and stream the couple's Spotify playlist below.