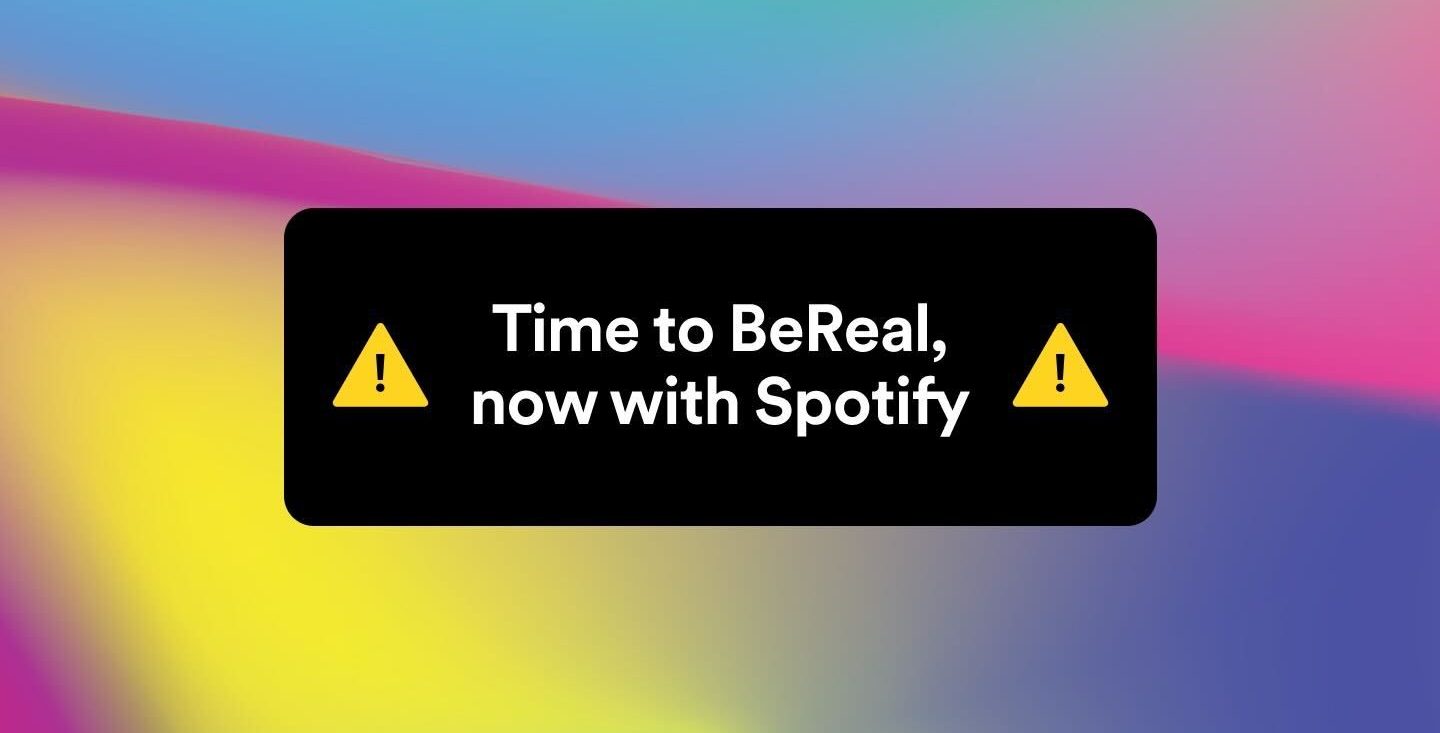 3 . . . 2 . . . 1 . . .
Our New Integration Allows You To Share Music and Podcasts On BeReal—Here's How
You never know when that yellow hazard notification is going to strike, but when it does, you're ready. You grab your phone, position it toward whatever you're up to at the moment, and let BeReal's double-sided camera do the rest. 
Starting today, when you use BeReal, you can also include what you're listening to on Spotify! Excited? Here's how to get started.
Connect your Spotify and BeReal accounts. There are two ways to do this. Eligible users—or even soon-to-be users—can do this by tapping on the music icon that's shown before posting their BeReal. Otherwise, within the BeReal app, navigate to "Settings," then "Music," and follow the prompts to connect to Spotify. 

Once you've connected your accounts, we'll automatically pull in the song or podcast you're listening to on Spotify at the time you capture a BeReal. You'll see the cover art of the audio you're listening to at the bottom of your camera lens.

Check out what other friends are listening to on your BeReal feed! You'll also be able to listen to a preview of what they've shared.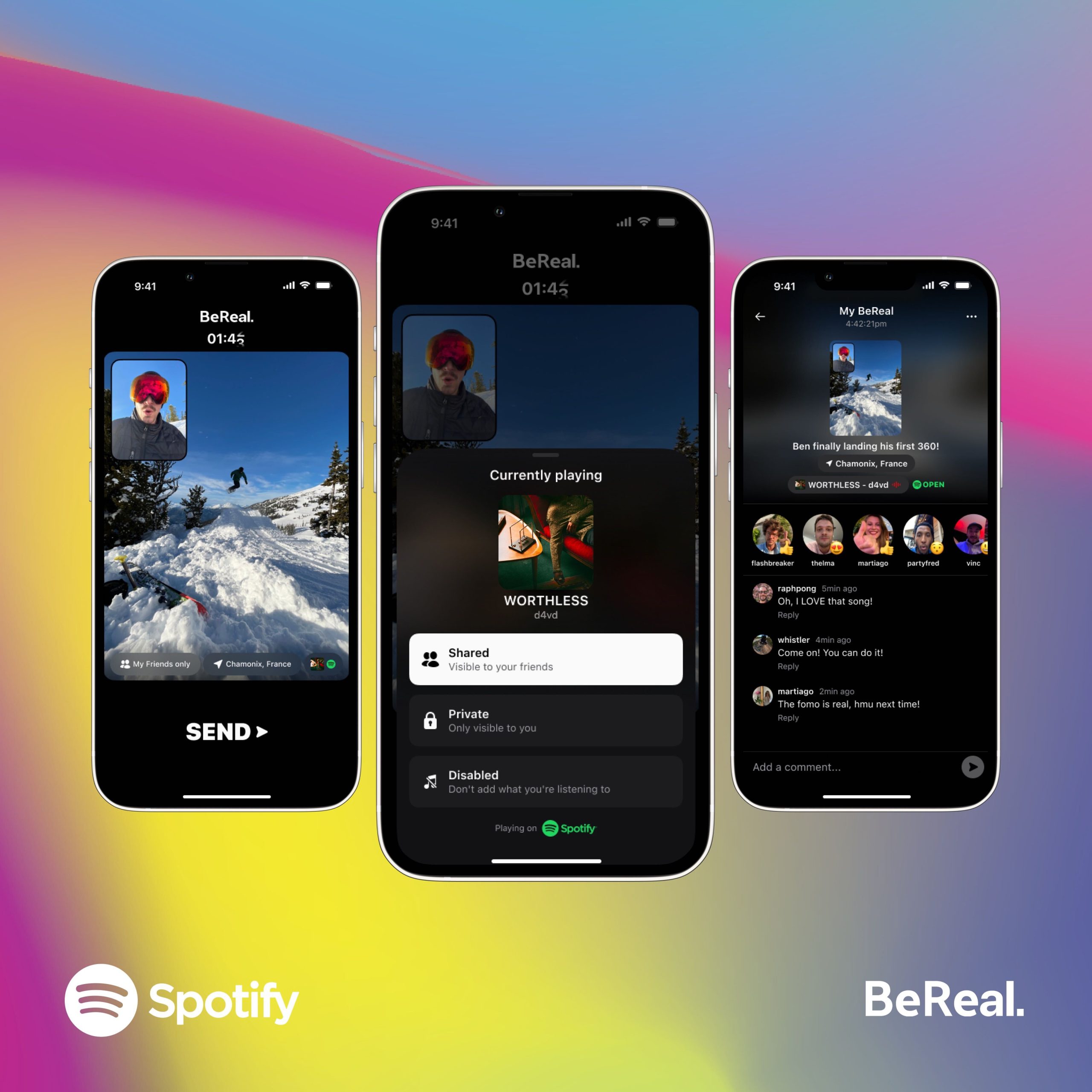 Spotify was built for moments of everyday inspiration, discovery, and interactivity. It also creates the playlist for your everyday life. BeReal is designed to capture and share authentic moments in your daily life with your closest friends. Combining audio from Spotify with BeReal adds another layer of authentic personalization and connection to your BeReal. 
We're proud of this integration within the BeReal platform. We're constantly finding new ways to bring Spotify to more people, and helping fans, artists, and communities connect through audio around the world. Starting today, BeReal and Spotify users on Android and iOS in select markets (including Canada, Mexico, Brazil, Australia, and the U.S.) can access this experience as it rolls out—with more markets to follow.
Update as of May 2, 2023: Users in Austria, Belgium, Denmark, Finland, France, Germany, Iceland, India, Ireland, Liechtenstein, Luxembourg, Monaco, Netherlands, Norway, Sweden, Switzerland, United Kingdom, Andorra, Cyprus, Estonia, Greece, Italy, Lithuania, Latvia, Malta, Portugal, Spain, Albania, Algeria, Bahrain, Belarus, Bosnia and Herzegovina, Bulgaria, Croatia, Czech Republic, Egypt, Hungary, Jordan, Kazakhstan, Kosovo, Kuwait, Lebanon, Moldova, Montenegro, Morocco, Oman, Pakistan, Palestine, Poland, Qatar, Romania, Saudi Arabia, Serbia, Slovakia, Slovenia, Sri Lanka, TFYR Macedonia, Tunisia, Turkey, UAE, Ukraine, Bangladesh, Pakistan, Sri Lanka, Afghanistan, Angola, Antigua and Barbuda, Armenia, Azerbaijan, Barbados, Belize, Benin, Bhutan, Botswana, Brunei Darussalam, Burkina Faso, Burundi, Cabo Verde, Cambodia, Cameroon, Chad, Comoros, Congo Dem Republic, Congo Republic, Cote d'Ivoire, Curacao, Djibouti, Dominica, Equatorial Guinea, Eswatini, Ethiopia, Gabon, Gambia, Georgia, Ghana, Grenada, Guinea, Guinea-Bissau, Guyana, Haiti, Iraq, Jamaica, Kyrgyz Republic, Kenya, Lao PDR, Lesotho, Liberia, Libya, Macao SAR China, Madagascar, Malawi, Maldives, Mali, Mauritania, Mauritius, Mongolia, Mozambique, Myanmar, Namibia, Nepal, Niger, Nigeria, Rwanda, San Marino, Sao Tome and Principe, Senegal, Seychelles, Sierra Leone, St. Kitts and Nevis, St. Lucia, St. Vincent and the Grenadines, Suriname, Tajikistan, Tanzania, The Bahamas, Timor-Leste, Togo, Trinidad and Tobago, Turkmenistan, Uganda, Uzbekistan, Zambia, and Zimbabwe can now connect BeReal to their Spotify account and showcase what they're currently listening to when they share their daily BeReal post.