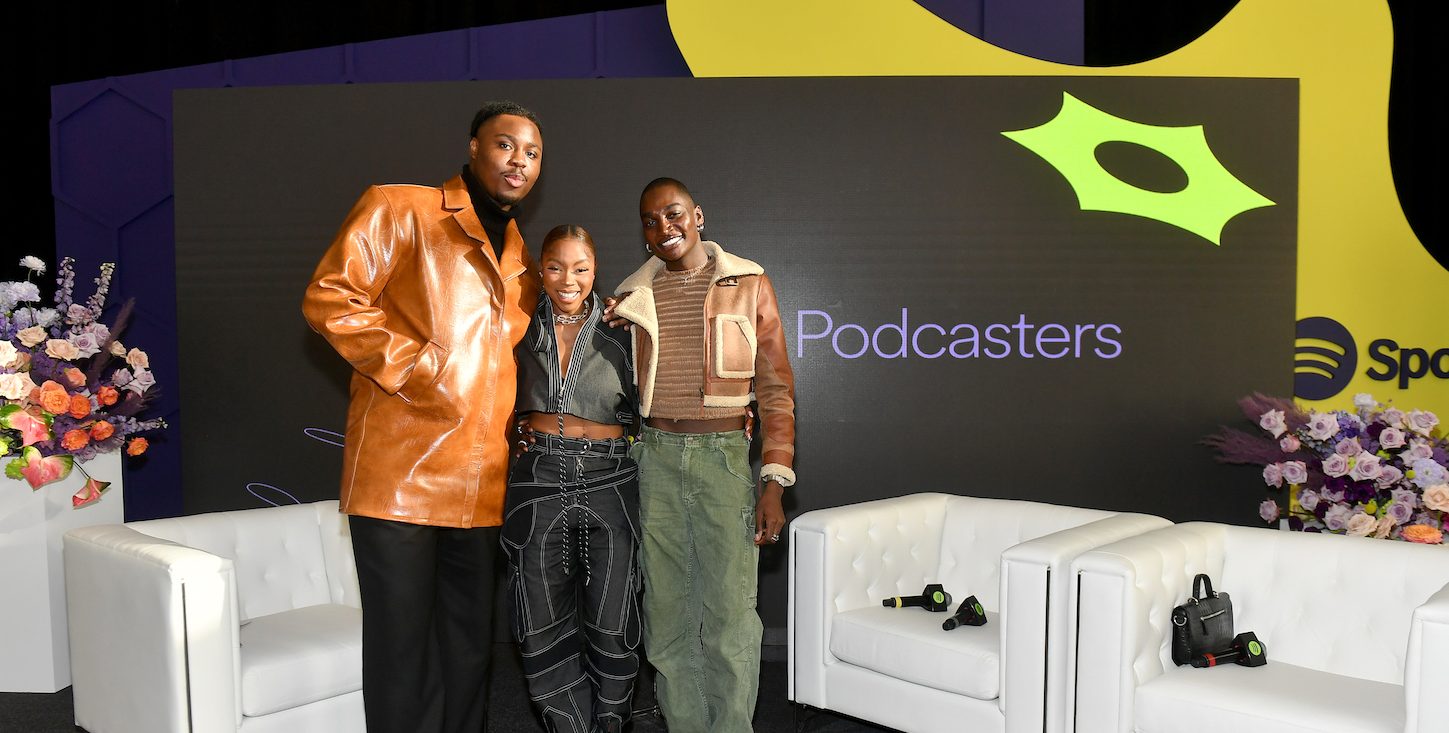 COLLEGIATE CREATORS
Spotify Debuts New Programs for Aspiring Audio Innovators at NextGen Creator Day at Spelman College
Burgeoning creators on college campuses across the U.S. are already harnessing their creativity for great ideas for the future of audio. At Spotify, we know that once they get the tools they need to amplify their voices, they'll be able to bring their stories to the world.
Enter NextGen, a program from Spotify for Podcasters designed to activate and grow podcast culture on college campuses, and make a career in podcasting more accessible for the next generation of Black content creators and storytellers. NextGen is funded by Spotify's Creator Equity Fund, which powers our commitment to showcasing and uplifting creators from communities that have been historically underrepresented in the audio industry. 
We currently offer NextGen programming at New York University, the University of Southern California, and the University of Pennsylvania. We announced last fall that we'd be expanding the program to historically Black colleges and university (HBCU) campuses across the U.S., starting with Spelman College in Atlanta, Georgia.
Yesterday, during our first-ever NextGen Creator Day at Spelman, we announced three ways we're broadening our partnership and further supporting students aspiring to work in the audio industry.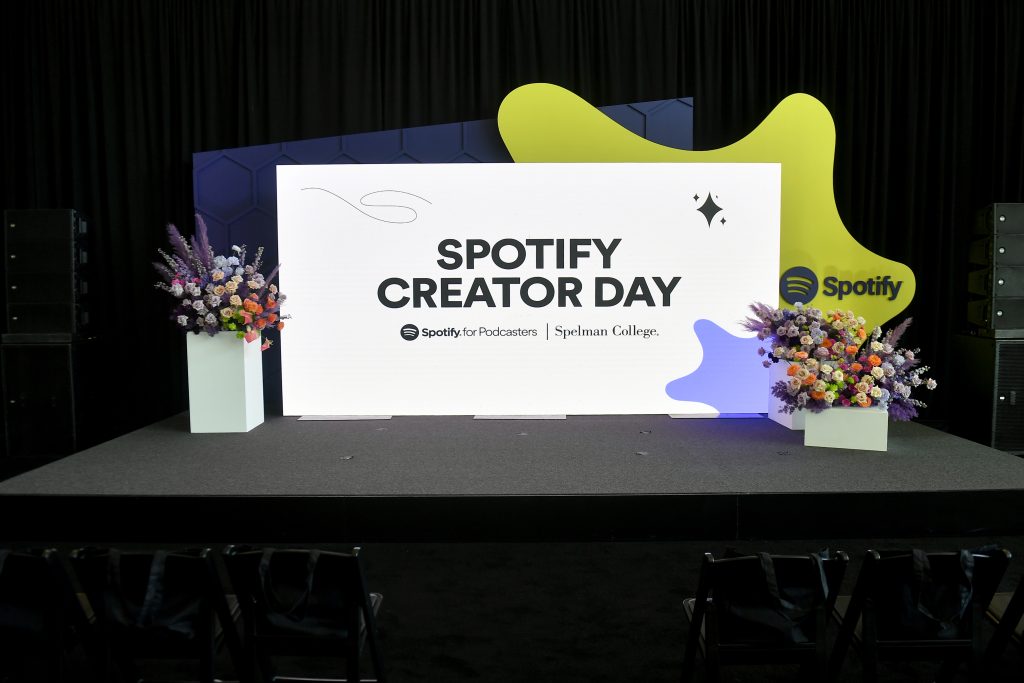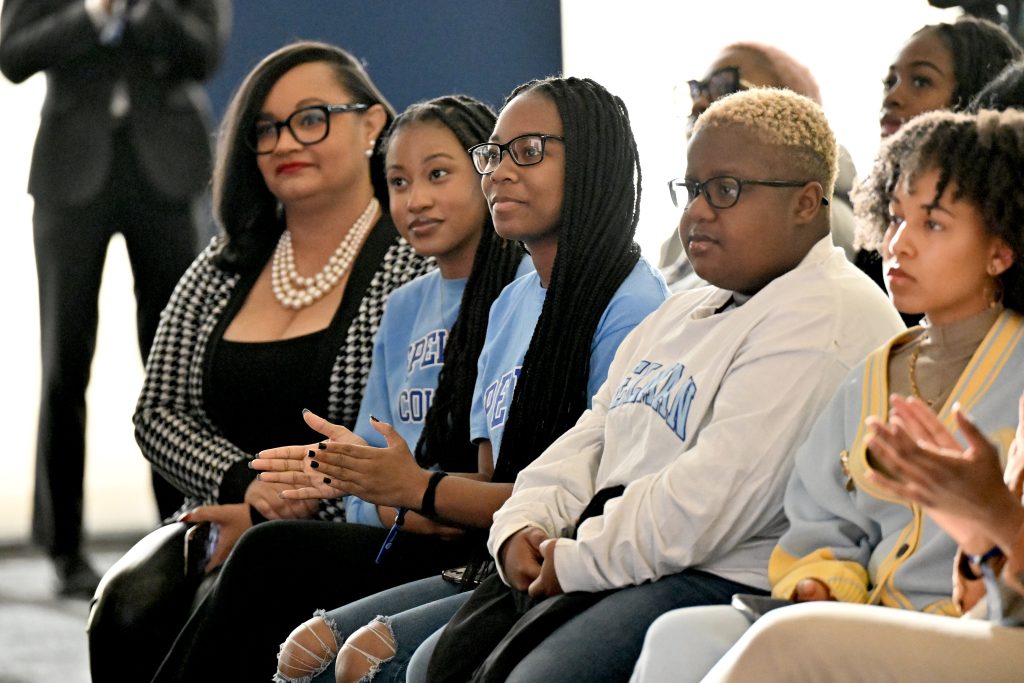 NextGen Curriculum Program
Spelman is offering a custom, audio-first curriculum designed to upskill students in the art of podcasting. It's co-created with Spelman faculty, starting with Dr. Michelle Hite, and Spotify's SoundUp team. The curriculum shows students how to design an audio newsroom, edit content, and produce a final podcast in place of a traditional paper or presentation.
"We have more than 50 students who have reported having already created their own podcasts, and more than double that number who have indicated an early interest in a career in the audio industry," says Dr. Hite. "These numbers weren't surprising to me because Spelman students have routinely indicated a sophisticated understanding of the importance of storytelling as a needed companion to their investment in social justice. Our students value storytelling as an instrument for expanding how people confront the possibilities for how Black lives can be imagined and considered. This partnership with Spotify gives them an opportunity to learn how to enhance and professionalize their interests."  
The Spotify NextGen Scholarship Program
This multiyear scholarship is for five first-year Spelman students interested in pursuing a career in audio media, including podcasting, storytelling, writing, sound engineering, and music. Each recipient will receive a $10,000 scholarship during their sophomore, junior, and senior years. 
Spotify Labs Creator Program
During a weeklong incubator program, the Spotify for Podcasters team will train aspiring podcasters with the goal of launching a new podcast. Students will participate in a series of interactive workshops that teach them how to successfully develop, launch, and grow a podcast using Spotify for Podcasters—our new, all-in-one podcast creation platform. Students who complete the lab will have a chance to win a podcast starter pack and have their show on the Spotify Student hub.
"Leading with audio and centering it in our approach has led us to capturing our voices and the sounds of our environment in compelling ways," explains Dr. Hite. "It has allowed us to establish an oral history in the classroom, and in doing so, we have expanded the register for hearing an environment of inquiry that reflects on Black people thinking about Black children—as well as other Black people—with love, respect, and probing. In Spotify, we have a committed partner who understands the importance of our objective and is skilled in storytelling that involves the richness of this landscape of Black life and can help guide us toward recovering parts of the story that we didn't know how to tell or capture so that it so profoundly reflects what we experience."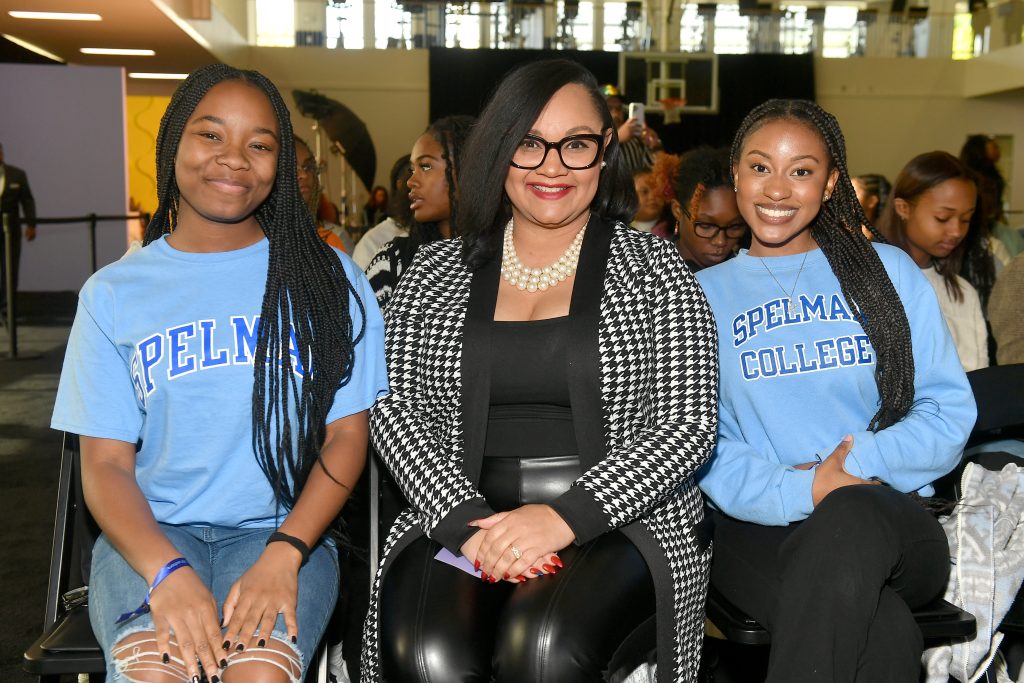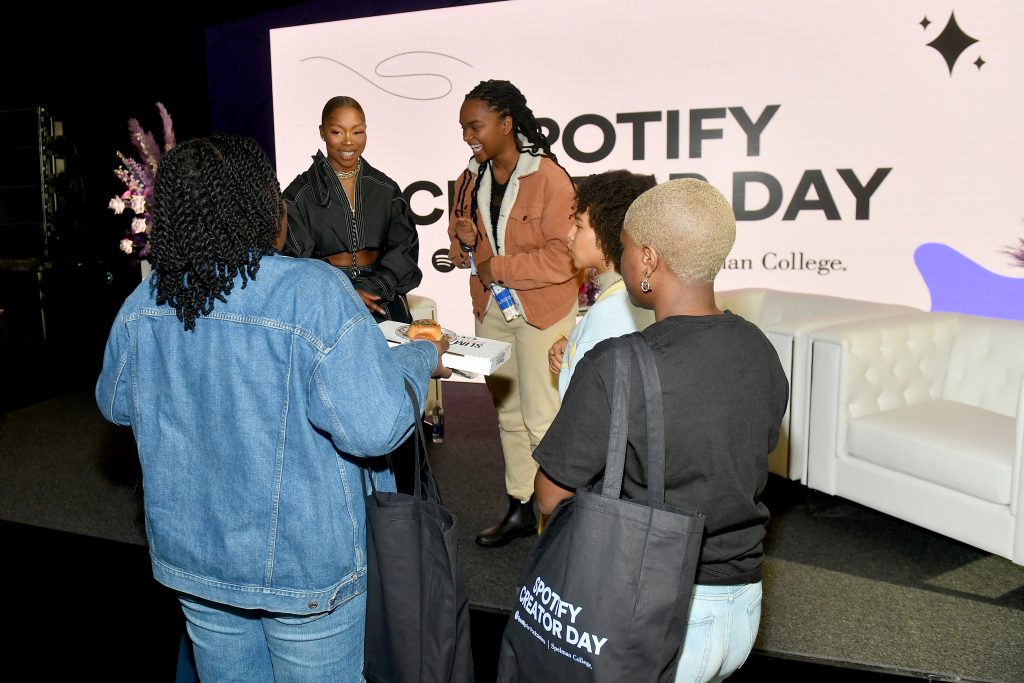 "Together, we're setting out to create a new class of Black content creators—equipping them with tools and resources to develop their podcast skill sets and ultimately making a career in audio more accessible for the next generation of storytellers," said Spotify Equity & Impact Lead Kristin Jarrett. "But this is just the beginning, and I'm eager to expand Spotify's NextGen program to more HBCU campuses in the future."
Lessons from the best in the biz
In addition to the announcements, students heard from Congresswoman Nikema Williams,  Spotify executives including Kristin Jarrett, and attended a fireside chat with Nailing It co-host Wunmi Bello and We Said What We Said hosts Rickey Thompson and Denzel Dion.
"I'm so grateful to this partnership at Spotify for uplifting students and continuing to highlight more black excellence in this country," said the congresswoman. "Spotify is coming in at a time when a lot of people are saying they want to support HBCUs, but they are stepping up and doing it."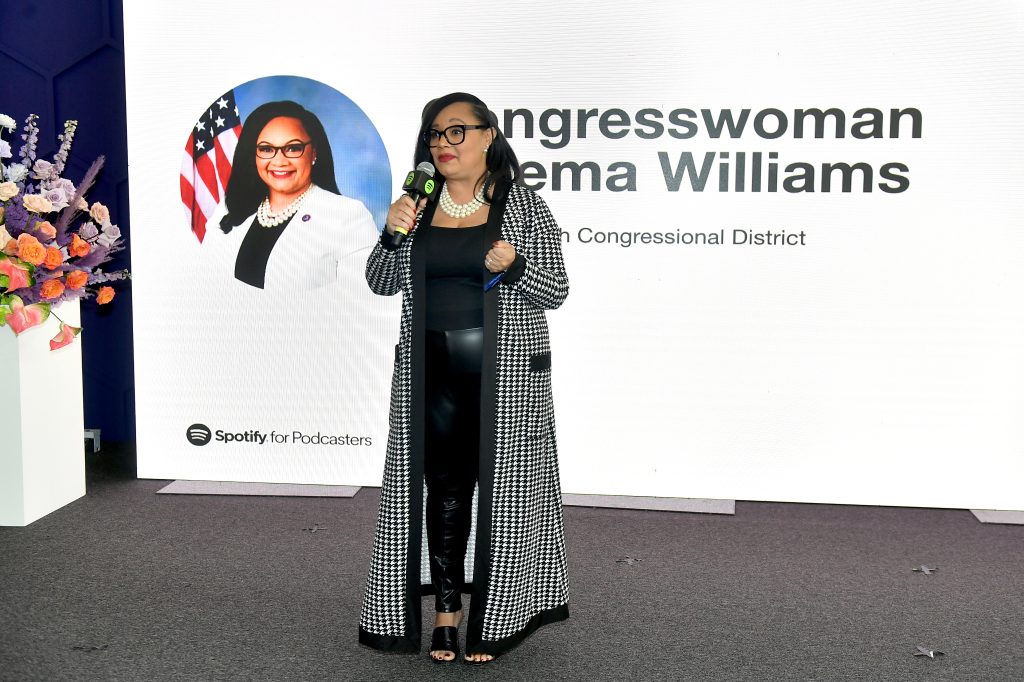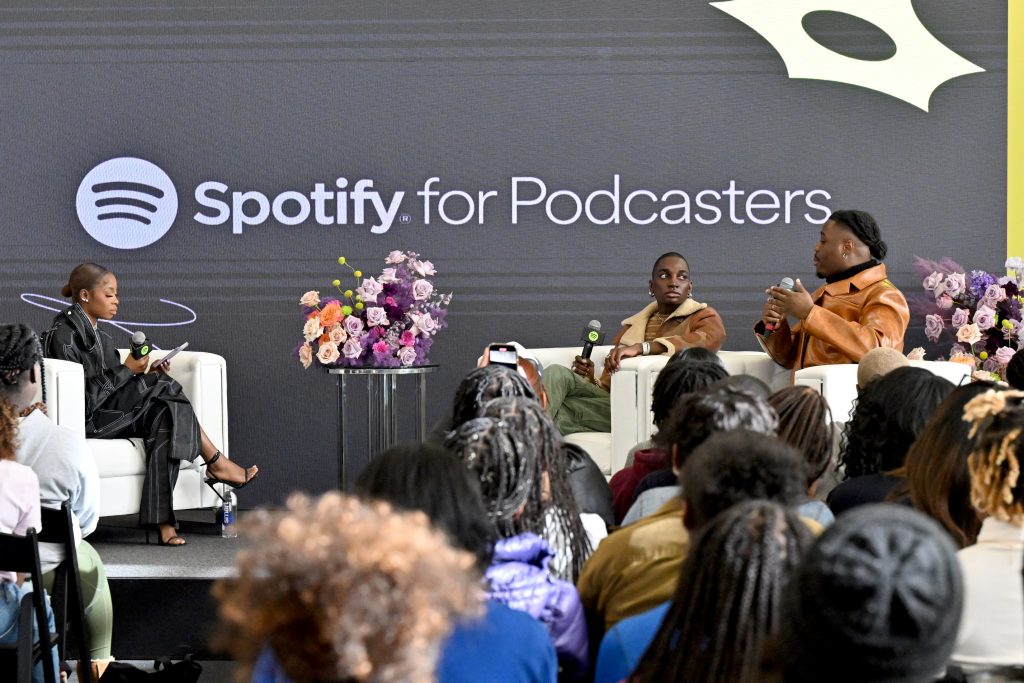 For the Record also asked Wunmi, Rickey, and Denzel to reflect on their creative journeys and imagine themselves in the students' shoes. 
What's one piece of advice you would have for your 18-year-old self?
Rickey Thompson: Have fun and stop worrying about what others think! 
Denzel Dion: Looking back with all the knowledge and experience I have now, there's not one change or risk that I wish I could've taken. I've taken all the risks in order to get to where I am today. I was young, ambitious, and had a goal. To make this happen, I had to move to LA at 17. But a piece of advice I have for my 18-year-old self is to ask for help when necessary.
Wunmi Bello: Be OK with making mistakes. Try not to see them as failures, as they add so much texture and knowledge to the journey. When I was younger, I felt like I had to do everything at once, and the reality is things take time and everything has a season. Build the faith in knowing that I can do everything I want to, and get comfortable in knowing it'll happen at the right time. Essentially: You got this!
How has your creativity changed since you were a teen? 
Rickey Thompson: I would say, I approach everything now as an adult. I think about everything like an adult.
Denzel Dion: My creativity has changed since then due to the fact that I'm now cautious of my words. When I was younger, I just spoke my mind freely, which was me just being honest. But as I grow older, I've realized not everything is meant to be said publicly.
Wunmi Bello: Since leaving college, I've started to pull creativity from what's going on in my life, using my life experiences to really shape and inform the stories I want to tell and what I want to share. With what I do, a lot of my creativity comes from interacting with people, and I've found ways to connect with people from all walks of life to enhance my creative influences.