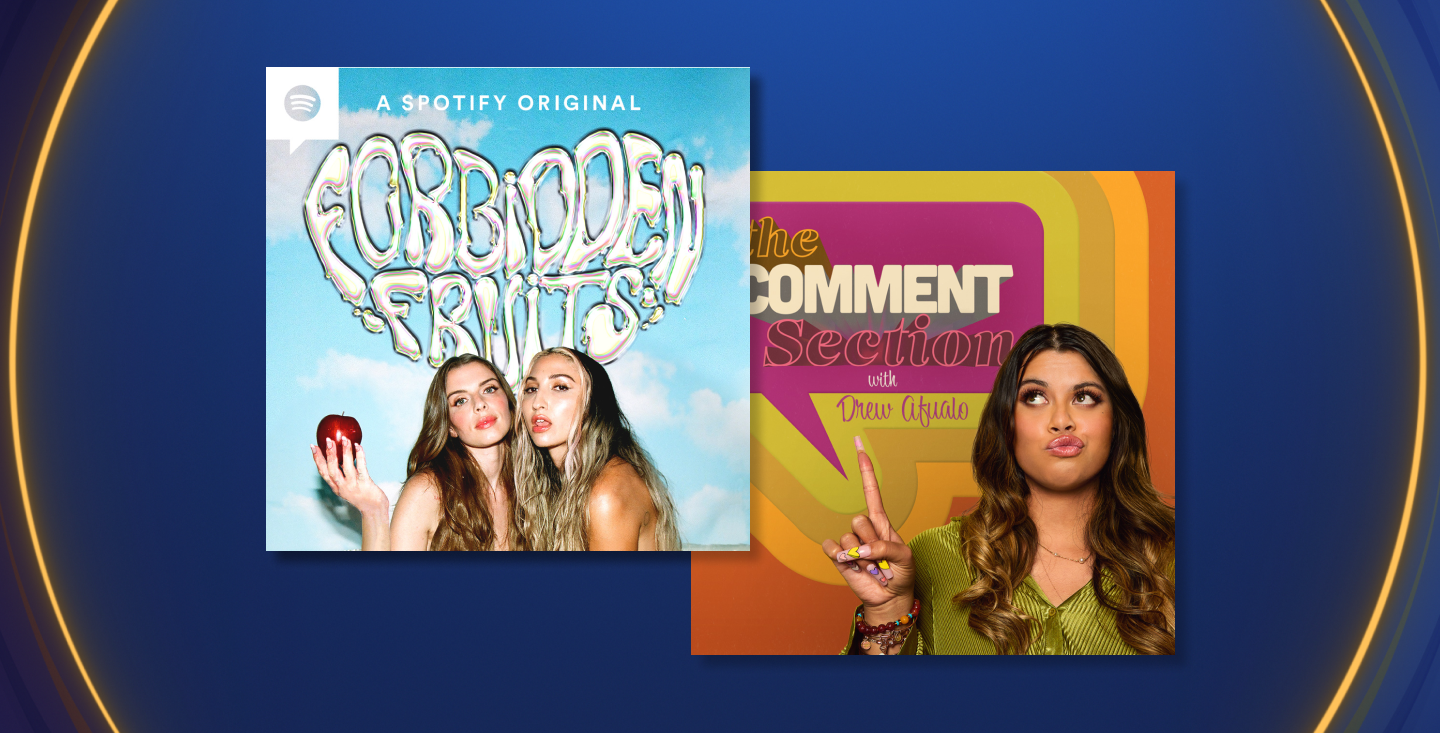 STREAM ON
Spotify Expands Video Podcast Lineup With 'Forbidden Fruits' and 'The Comment Section'
Today at Spotify Stream On, artists, songwriters, video and content creators, podcasters, and streamers from all over the world joined Spotify to hear about our latest announcements and inspiring stories across our global platform. And for the podcasters in attendance, we touched on one of the most exciting trends in the space: video. 
Video is one of the fastest-growing areas of podcasting, with more than 70,000 video creators on the platform. We expect that growth to continue. With innovative partnerships on the way from Collab, Creative Juice, Get Engaged Media, Golden Child, and Karat to bring their creators' videos to Spotify, as well as limited video series exclusively available on Spotify from Mindset Mentor, we're looking forward to introducing millions of new listeners to video podcasts. 
Forbidden Fruits with Julia Fox and Niki Takesh returns—on video
We're also excited to reveal that Forbidden Fruits with Julia Fox and Niki Takesh will not only return for a Season 2 on March 17, but the new episodes will be released as an all-video podcast. 
"Video is a whole added layer because now we actually have to get dressed," Niki quipped to For the Record. "But we're excited for the lewks!"
Fans can expect more of the same no-holds-barred cultural commentary from Julia and Niki—two opinionated and transgressive folx who cite acting, writing, designing, and styling in their resumes—but with a vivacious new look that matches the hosts in this moment. Equipped with a keen understanding of the current intersection of pop culture, sex, and stigma, this duo will continue to explore taboo content and interview culturally relevant guests with empathy and understanding to gain deeper insight. 
"We have some amazing guests lined up for our listeners. It'll never be a dull moment over here," Julia said.
Drew Afualo's The Comment Section is moving exclusively to Spotify
Known as the internet's defender of women, Drew Afualo attracted a loyal following across social media, and has built on that with her weekly video podcast, The Comment Section, where she and her guests explore the most dreaded section of their tagged videos on TikTok.
"I am so excited to move to Spotify for so many reasons, but one of the main ones is that it's by far my favorite streaming platform," Drew told For the Record. "I have used Spotify for so many years, and to have them partnering with me is such an honor. I truly feel like Spotify sees my vision and understands where I want to go with The Comment Section. I can't wait to see where this journey takes us next!"
Starting April 5, Drew's show will become a Spotify exclusive. But fans can still expect the same candid discussion and lots of laughs as Drew keeps it real and gives in-depth advice on the issues listeners care about most.
Can't wait for Season 2 of Forbidden Fruits to premiere? Catch up with all of Season 1's hot-button topics below.