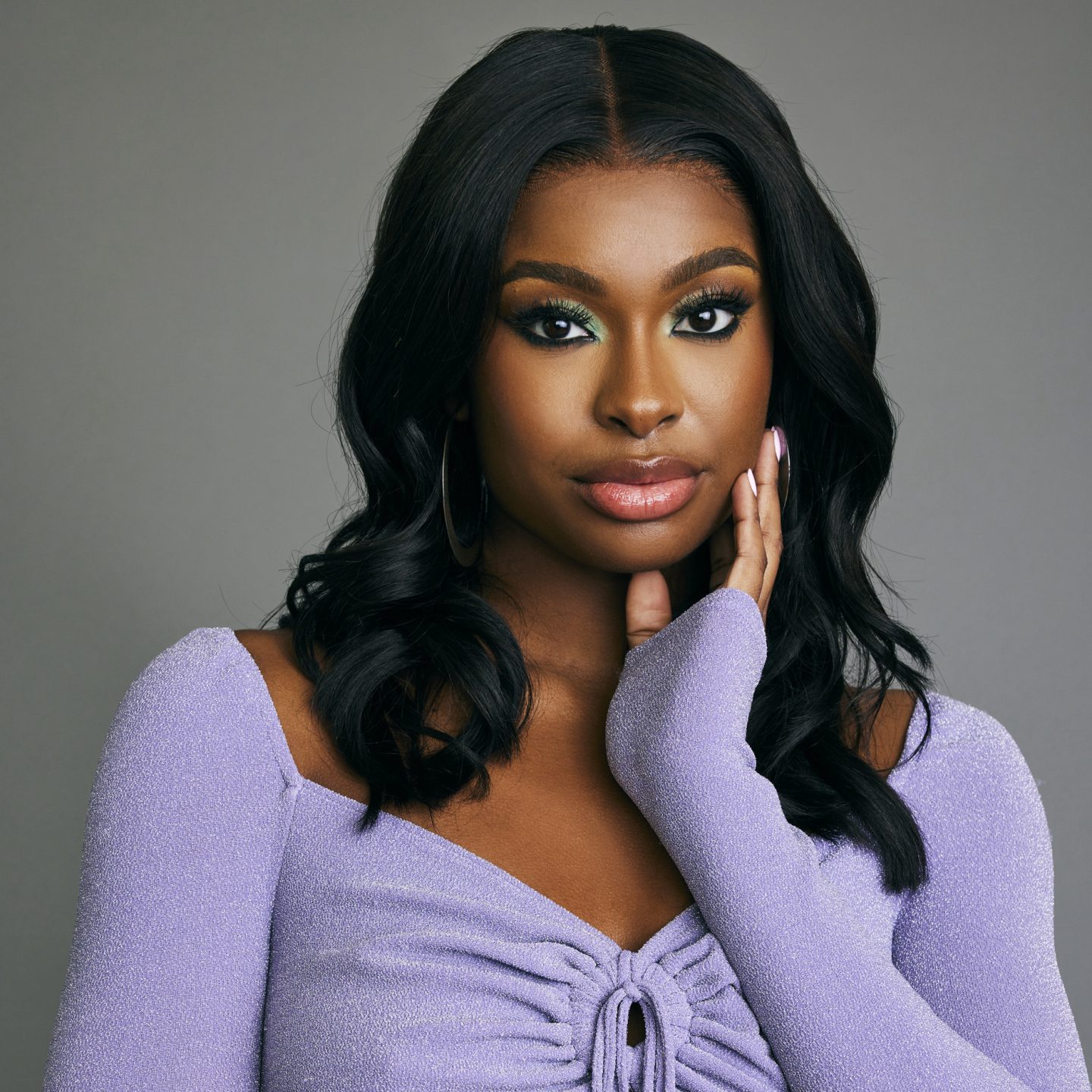 LEVELING UP
'Bel-Air' Star Coco Jones Dishes on Season 2 and Life Behind the Scenes
When the Peacock original series Bel-Air debuted last year, it reimagined the original series in the truest sense. Where the original sitcom was more of a lighthearted, fish-out-of-water tale, Bel-Air arrived with a decidedly dramatic edge. And while Will may have still left West Philadelphia for the gated mansions of LA, he found himself reckoning with the conflicts, biases, and emotions of the world around him in a more serious way.
With a new season of Bel-Air returning, the show is raising the stakes. Will, Jazz, and the entire Banks family are all back to pick up where they left off and navigate the relationships that exist between them. And just like in Season 1, fans can expect all the dramatic plot twists to be backed by an iconic soundtrack, which will include tracks from Kendrick Lamar, Meek Mill and Tyler, The Creator. 
The new season also sees the return of Will's cousin Hillary Banks, who surprised fans in Season 1 when she struck up a relationship with Jazz. Hillary is played by the multi-talented Coco Jones, who, in addition to acting, made her major-label debut last year with the release of her EP What I Didn't Tell You (Deluxe).
For the Record sat down with Coco, who dished on the new season of Bel-Air, what it's like to juggle music and acting careers, and what makes her character, Hillary, tick.
With the new season of Bel-Air just around the corner, what can fans expect? 
I think they can expect more jaw-dropping drama, because that's what we do. But I'm really curious to see how they enjoy learning more about these characters and getting to see them operate in deeper ways. I feel at the start, they were introduced as these nostalgic characters with a new storyline. But now you know who these people are, what they're going through. And I think it will be interesting for fans to see how that plays out.
Are there any ways that you drew inspiration from the original series when it comes to your character, Hillary?
Definitely, the OG Hillary has so much confidence and poise. I just love the feminine energy she exuded, and it makes her really captivating. I studied how she enters a room, and even the funnier sides of her. She was kind of quirky, and so I took some of that as well—not only to make Hillary feel really well-rounded, but also to have that nostalgic poise about her. 
Given that Hillary is an aspiring influencer, are there any recent viral trends you think she'd be really into? 
There are these viral recipe videos where people try the most random things, like Jolly Ranchers in their wine or frying something crazy. And Hillary really delves into cooking culture, so I think she would love to tap into that trend and make her own commentary type of TikTok channel. 
Was there any music you and the cast really got into while you were filming?
I think what I really enjoy about my cast is that we all have similar passions, but different inspirations. So I think we put each other on to a lot of music. For example, Olly Sholotan (who plays Carlton) really loves The Weeknd, so he showed me songs that I'd never even heard before. Jabari Banks (who plays Will) is super into throwback and nostalgia. And Simone Joy Jones (who plays Lisa) is really into jazz and alt music. And you know I like R&B. So it was fun showing each other different styles and introducing each other to different music. 
You also recently released a new EP and were named as one of Spotify's Artists to Watch. What's it like working on both aspects of your career at the same time? 
I think it's been an amazing and challenging blessing. Like, I'm not going to complain that both of the things that I love to do are heavily, heavily happening at the same time. I think it's taught me a lot about my work ethic and how much passion I really have for these things to be able to go from one thing to the other and still find the energy to make sure that I give it everything I have.
Are there any songs from your EP that you think Hillary would enjoy?
Oh my gosh, yes! I think Hillary would love my single "Caliber." It's just the epitome of her. She has very high standards for herself and those around her. In the first season of Bel-Air, she's literally leveling up Jazz. She's like, "Let me put you on. You don't even run a social media profile and you're missing out on marketing. What are you doing?" 
She's very much an "I will level you up"–type of girl. I think she's looking for that same ying to her yang in her life, and I think "Caliber" embodies that. But I think she'd love my whole EP, to be honest.
If you could play any character in a reboot of any movie or show, who would it be? 
Wow. I have always said that I wanted to do a new version of Charlie's Angels because there's so much cool technology. We could really make this movie really visually impressive. I'm very athletic and I love a kickboxing class. I feel like I could really do that. 
Is there anything you'd want to say to fans of your acting or fans of your music? 
I definitely want to say thank you. And what I love to share and constantly remind anyone who's a fan of me is that the journey that is yours is probably going to take a different route, or at least different timing, than you expected. So don't let your heart believe that things won't happen because they're not going exactly to plan. 
Would you give similar advice to aspiring artists or actors? 
I feel like the main thing you need to be a successful singer, actor—or honestly anything—is you just need to not give up. Of course, there are going to be days where you're not inspired or you're hella discouraged. But do not give up on that day, and then go to the next day, and then do the same thing. If you stick with it, one day you'll look up and great things will have happened.
Ready to discover more from Coco Jones? Check out her EP What I Didn't Tell You (Deluxe) now.