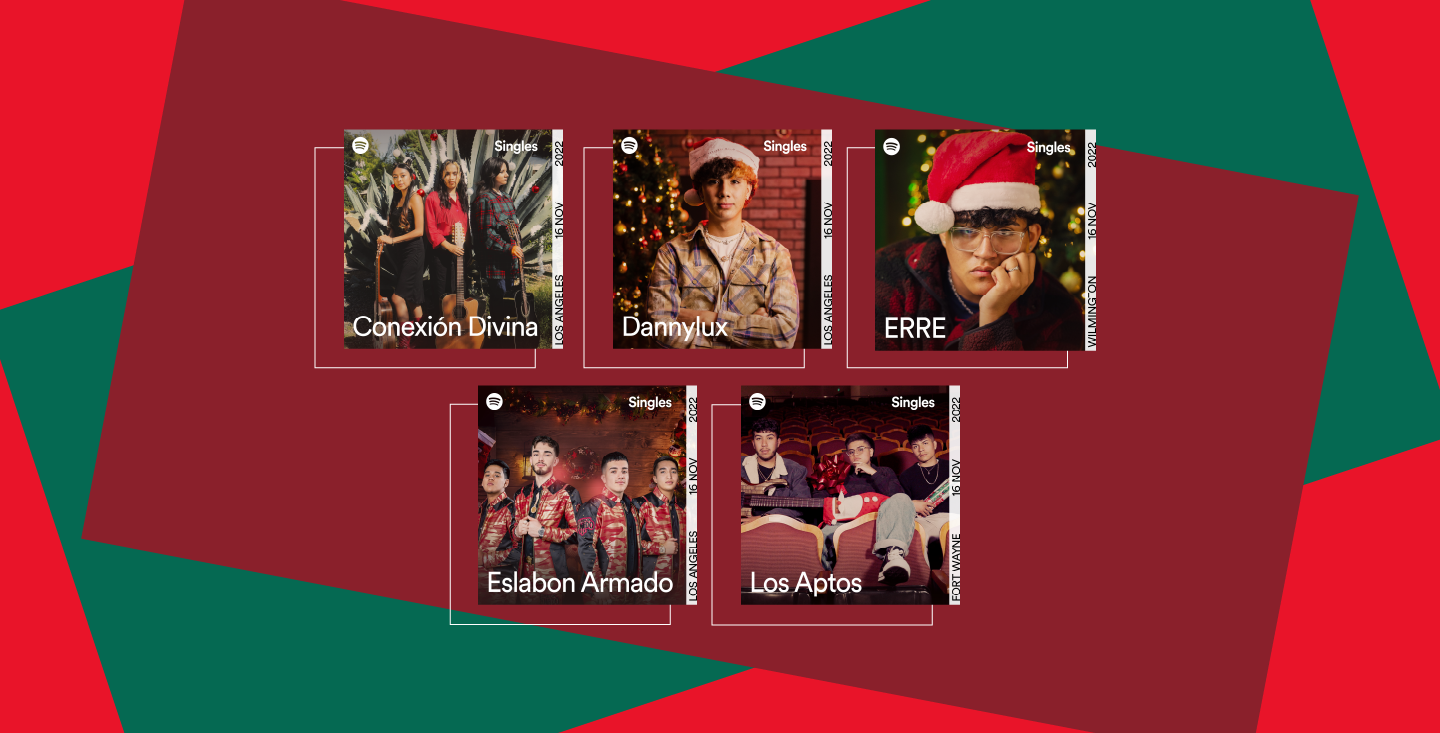 BLUE CHRISTMAS
Celebrate the Holidays With the Bittersweet Sounds of Our First Sad Sierreño Spotify Singles Collection
In Mexico, the holiday season begins with the traditional posadas, a celebration with family, friends, star-shaped piñatas, warm fruit punch, and of course, villancicos or Christmas carols. This year, Spotify is celebrating this tradition with the first-ever sad sierreño edition of Holiday Spotify Singles. 
Sierreño is folk music from Mexico's northern mountain range region that is best known for nostalgic ballads performed with acoustic guitars. This year there's been a resurgence of the genre with a Gen Z twist that has formed a new classification: sad sierreño. Sad sierreño is represented by a generation of young Mexican American artists and is distinguished by a bedroom pop production style ethos and sound, resulting in songs about love and heartbreak with an angsty edge.  
The collection includes "Triste Navidad" from DannyLux, a sad Christmas song that echoes Elvis's "Blue Christmas." The artist, Daniel Balderrama Espinoza, is originally from California and imprints new-wave influences on the traditional sierreño. 
Eslabon Armado, a trio formed by the brothers Pedro and Bryan Tovar with Gabriel Hidalgo, recorded a version of "Blanca Navidad" with the classic plucked guitars of sierreño and their trademark vocal harmonies. The trio has 7.2 million monthly listeners on Spotify and their album Nostalgia ranked among the most-streamed new releases globally earlier this year. When they were kids, the Tovar brothers listened to the classic Christmas songs of Vicente Fernandez on the radio.
"We chose to do this song because we are big fans of Luis Miguel, who famously made an album with Christmas songs," Pedro, the lead singer and lyricist of Eslabon Armado, told For the Record. "We have always liked 'Blanca Navidad' but we added our style of guitars and bass to this version."
Los Aptos, a trio from Fort Wayne, Indiana, delivered "Por Ti," an emotional romantic ballad with a bittersweet taste of nostalgia that invades the holiday season. 
Conexión Divina is the first all-female sierreño trio, formed by Mexican American artists Liz, Sandra, and Ashlee, currently based in Los Angeles. For this collection, they recorded "Cómo Poder Olvidar," an upbeat track that combines heartbreak lyrics with soft guitars.
Finally, Eduardo Granado Rojas, better known as ERRE, originally from Phoenix, Arizona, rendered "Solo en Navidad," a track with melancholic lyrics and an indie sound that stands out for a guitar with reverb over acoustic guitar harmony. 
Eduardo's mother gave him his first guitar for Christmas when he was 11 years old. He drew on inspiration from artists like Ariel Camacho and Los Plebes Del Rancho to learn to play Mexican music on his guitar.
"As a child I listened to the music that my family liked, which were songs like "Navidad Sin Ti" by Los Bukis or songs that came out on the radio and in stores during the holidays," said ERRE. "I chose this song because the lyrics have a meaning that many people can identify with. In a season that couples enjoy a lot, one can feel lonely for not being able to have that person with whom to have that New Year's kiss or that affection during the holidays." 
Listen to all the tracks in our sad sierreño playlist.