BLINDING LIGHTS
Share Your Favorite Projects by the Weeknd With My Top 5
You may have gotten into The Weeknd by vibing with his latest offering, Dawn FM, or the banger of an album that was 2020's After Hours. Or you may have been along for the ride with Trilogy, his breakthrough 2012 album that gathered all three of his 2011 mixtapes—House of Balloons, Thursday, and Echoes of Silence—into one remastered package.
. . . And we haven't even mentioned the seemingly endless number of remixes and collaborations we've seen from the influential artist.   
Once you start listening to The Weeknd's music, you begin to realize the sheer amount of work the Canadian singer has been involved with since his mixtape days. And it seems everyone has a different opinion on what their favorite project is.
To celebrate that, just in time for the 10th anniversary of Trilogy's release, Spotify is launching My Top 5: The Weeknd Projects. This interactive in-app experience lets fans create the ultimate selection of their top five favorite projects from The Weeknd in a playful and engaging way, and share it and debate with friends on social media.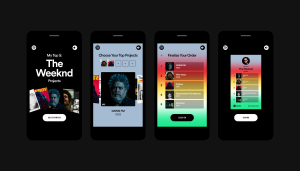 Here's "What You Need" to do:
Make sure you're in one of the 36 markets where the experience is live*

Ensure your Spotify mobile app is up-to-date with the latest version available in the App or Play store.

Visit

https://spotify.com/top5

on your mobile device.

The experience will present The Weeknd's projects and allow you to select your 5 favorites, and then drag and reorder them in the visual display, creating your definitive Top 5 list.

Finally, share your order with friends on social media with a personalized visual.
This is the second round of the My Top 5 experience in the U.S., following last summer's celebration of Kendrick Lamar's projects. 
Share your favorite project by The Weeknd by visiting https://spotify.com/top5.
*The experience will be available in 36 markets: BR, FR, DE, IN, MX, US, UK, CA, AUS, NZ, DZ, AT, BH, CZ, DK, EG, IQ, IE, IT, JO, KW, KSA, LB, MA, NO, OM, PS, QA, SE, CH, TN, NL, AR, CO, CL and 12 languages: Czech, Dutch, English-GB, English-US, French-CA, French-FR, German, Italian, Norwegian, Portuguese-BR, Spanish-LATAM, Swedish