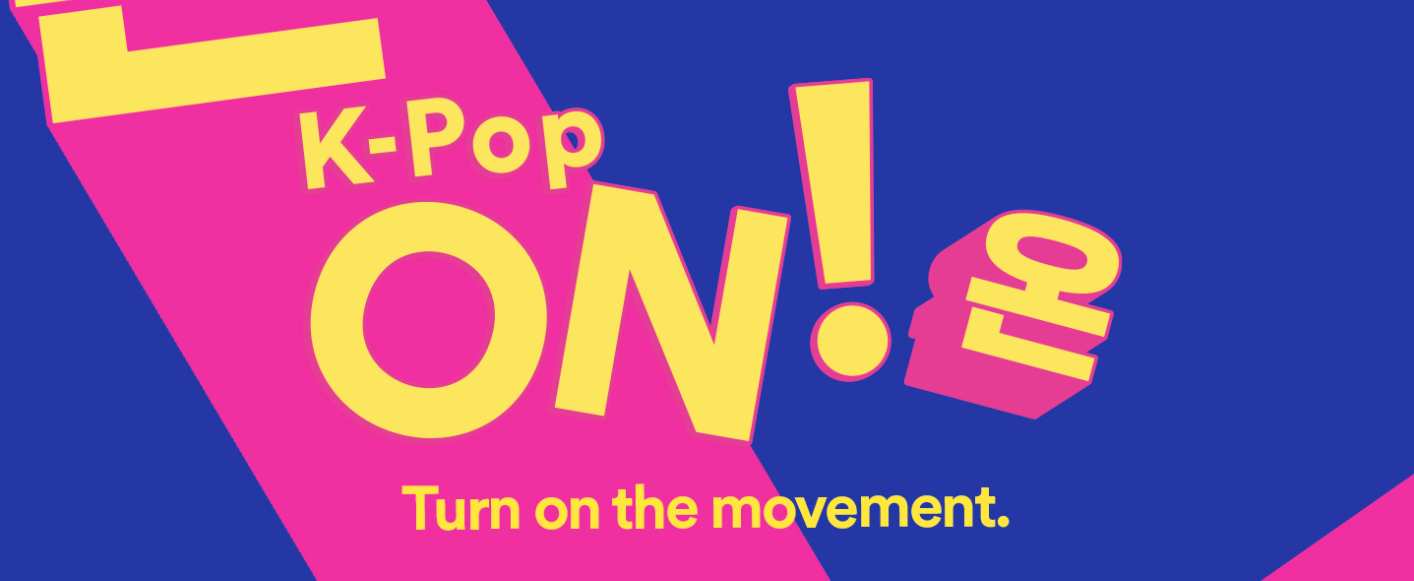 HIT REFRESH
Spotify Celebrates K-Pop With a Relaunch of Its Flagship Playlist, Now Called 'K-Pop ON! (온)'
It's been one year since Spotify debuted in South Korea and almost eight years since the launch of our flagship playlist, K-Pop Daebak. Since its unveiling in 2014, the playlist has racked up billions of streams for Korean artists and has expanded their reach around the world. As K-Pop continues to dominate the charts, Spotify is building on this momentum with a complete relaunch of its K-Pop Daebak playlist, now called K-Pop ON! (온). 
K-Pop is more than a music genre—it's a cultural hub for fandoms, superstars, fashion moments, and more. With K-Pop ON! (온), Spotify is creating a destination that gives fans and artists even stronger ways to connect with each other. That's the reason for the new playlist name and the addition of the Korean word "온," which means "100" or "whole." When combined with the English word "on," the playlist's name embodies the idea that K-Pop is always on 100 for the whole world. And that couldn't be more true; every day, K-Pop brings new songs, styles, and trends to the world. With K-Pop On! (온), fans aren't just tuning in to a playlist, they're immersing themselves in a worldwide phenomenon. 
Since 2018, K-Pop streams on Spotify have increased by 107% in the United States and 230% globally, resulting in almost 8 billion streams per month around the world. The love of the genre is truly global, with the U.S., Indonesia, the Philippines, Japan, Mexico, Brazil, Malaysia, Canada, Singapore, and the U.K. rounding out the list of the top countries that stream K-Pop. The music has taken over the Spotify platform. In fact, in the last 90 days, there have been over 4.7 million searches for the term "K-Pop" on Spotify. 
These searches include a wide array of artists and songs, ranging from big hits by top stars to deep cuts from emerging artists. Since the playlist's original launch in 2014, BLACKPINK and BTS have been the most-streamed artists, while the most-streamed songs have been "DDU-DU DDU-DU" by BLACKPINK, "FANCY" by TWICE, "DALLA DALLA" by ITZY, "Kill This Love" by BLACKPINK, and "SOLO" by JENNIE (from BLACKPINK). 
Spotify couldn't launch K-Pop ON! (온) without help from a few fan-favorite artists, so it's rolling out star-studded billboards around the world to celebrate. Fans will find larger-than-life images of NMIXX in LA; BTS, aespa, and NMIXX in NYC; ATEEZ, Red Velvet, NCT DREAM, and more in South Korea; aespa, SEVENTEEN, BLACKPINK, and more in Indonesia; BTS, NMIXX, and IVE in Japan; and BTS, TWICE, and ENHYPEN in Toronto—with more exciting content to come, across the platform and on Spotify's own channels. 
Want to join the millions of fans around the world singing and dancing along to K-Pop? Stream our newly minted K-Pop On! (온) playlist here.