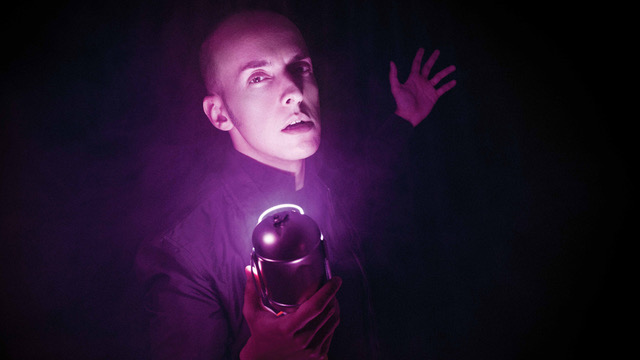 MAKING A "KILLING"
How Pshycotic Beats' "Killer Shangri-Lah" Went From A Twin Peaks Playlist to TV's Hottest Psychodrama
Killing Eve is one of the past year's most-obsessed-over TV shows. The BBC America psychodrama, which stars Sandra Oh and Jodie Comer as a spy and a contract killer, respectively, who engage in a cat-and-mouse game that takes them all over Europe, has featured incredible performances, jaw-dropping plot twists, and electric banter since it debuted in March 2018.
The show's darkly funny mood is greatly helped along by its music—and its tone was set almost instantly by "Killer Shangri-Lah," a vampy, drama-heavy offering written by the Madrid-based songwriter and producer Pshycotic Beats. The artistic project of Andrés Costureras, Pshycotic Beats has released three albums, with songs from the most recent one, The Black Sea, appearing on playlists curated by Spotify's team in Spain.
"Killer Shangri-Lah" appeared in the first episode of Killing Eve, soundtracking one of Comer's character Villanelle's typical flourish-filled kills. The song's sweep and theatrics, as well as its retro feel, make it an ideal match not only for Villanelle's character, but for Killing Eve as a whole.
While "Killer Shangri-Lah," which has vocals by Pati Amor, is a defining song for one of the biggest small-screen smashes of the late-2010s, it actually dates back to 2013. "It was the sixth single from my Dormihcum album," Costureras recalls, "and the excuse to launch it as a single was to launch my own record label, which is called Log Lady Records. I'm a huge Twin Peaks fan."
Costureras's Twin Peaks­-heavy promotion of the single, which packaged the original song with an instrumental version and a strings-only arrangement, led to it appearing on the "Twin Peaks: Nighttime at the Roadhouse" playlist, which is put together by the David Lynch fansite Welcome to Twin Peaks. "It's the most important fansite for fans all over the world," says Costureras. "It was a huge surprise, and I was so honored."
The song's placement on that playlist and others made Spotify's algorithms aware of it, and it started appearing on users' Discover Weekly playlists—including the one made for Catherine Grieves, the music supervisor for Killing Eve. (Grieves puts together the show's wide-ranging soundtrack with members of the similarly cinematic outfit Unloved.) "As far as I am concerned, Discover Weekly is this magical playlist featuring whatever music you're into at the moment," says Costureras.
"She told me that she discovered the song in her Discover Weekly playlist," he notes. "That was one or two years ago, and she was saving it for the right project to try and make it work."
The song has racked up nearly 700,000 streams, and it's been a staple of playlists for and by fans of the show, sitting alongside songs by the likes of Unloved, Julia Michaels, and Françoise Hardy. In April, Emily Haines of Canadian new wavers Metric performed "Killer Shangri-Lah" at the Governor General's Performing Arts Awards in Ottawa, where Oh was being honored for her contributions to the arts. "I'm dying to listen to what they have done with it," says Costureras.
Costureras is working on Pshycotic Beats' fourth album and watching his Spotify for Artists dashboard as viewers enjoying Killing Eve discover his music. "The response has been huge," he says. "I'm amazed."
Stream "Killer Shangri-La" below.